Subscribe at Apple Podcasts, Stitcher, Spotify, Google Podcasts, Overcast, Pocket Casts, Anchor.fm, Breaker, PodBean, RadioPublic, or search in your favorite podcatcher!  

Show Updates:

Comments from social media.
Audio/Video issue on last episode – the one time there's no copyright issues!
Lead Up To Album & Writing:

Machine Head original concept was to be a studio album, with a live performance after.
Machine head was a hit but it wasn't really until "Made in Japan" came out that people really registered it.
Was supposed to be a Japan only release initially.
The band didn't like the idea of live albums. Agreed on condition it would only come out in Japan.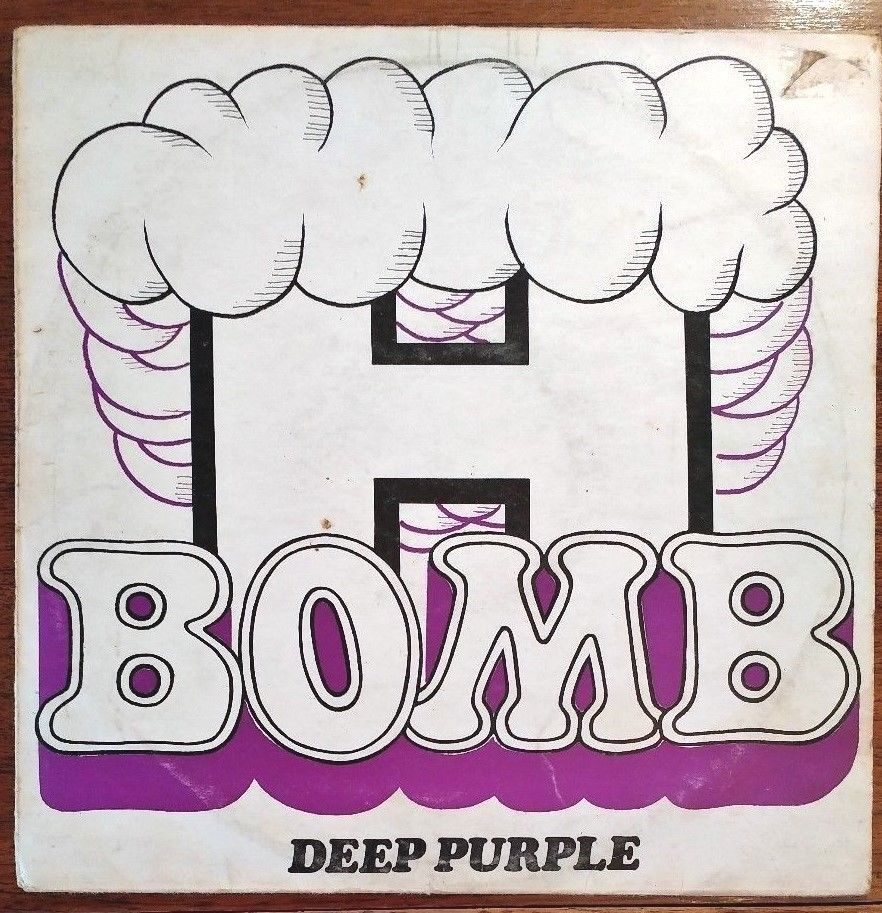 H-Bomb bootleg being sold illegally. This was a bootleg of a show they did on July 11, 1970 in Aachen, Germany. Virgin Records. Richard Branson. This was later released in 2001 as Space Vol 1 & 2. 20 minute wring your neck, 33 minute Mandrake Root.
Deep Purple had been heavily bootlegged for years.
Live albums were thought to be budget albums.
Glover (in Sounds magazine): "There are so many bootlegs of us going around, if we put out our own live set, it should kill their market."
Japanese record company wanted to record it and the band kept saying no.
Finally they agreed to do it under certain conditions:

It only comes out in Japan.
It doesn't come out at all if they don't like it.
They mix it and record it with their own engineer.

Enter "The Wasp" Birch!
Control room was backstage, no eye contact with the band.
In the United States "Made in Japan" was a huge hit and introduced a lot of the US to their hits.
Ritchie and Ian weren't getting along offstage but on stage the chemistry was great.
It was truly live, no overdubs which was a big deal as there is controversy over other live albums.
They recorded three shows (Osaka on August 15 & 16, Tokyo on August 17) and selected from them.
Interplay between Ritchie and Gillan was something you didn't see on the records that had developed in their live show.
Jon, Roger, speak about this being the peak of their abilities and their best moments.
When they got back to England they listened to the tapes and were really impressed and decided they'd like to put it out.
In the US they were more interested in the next studio album.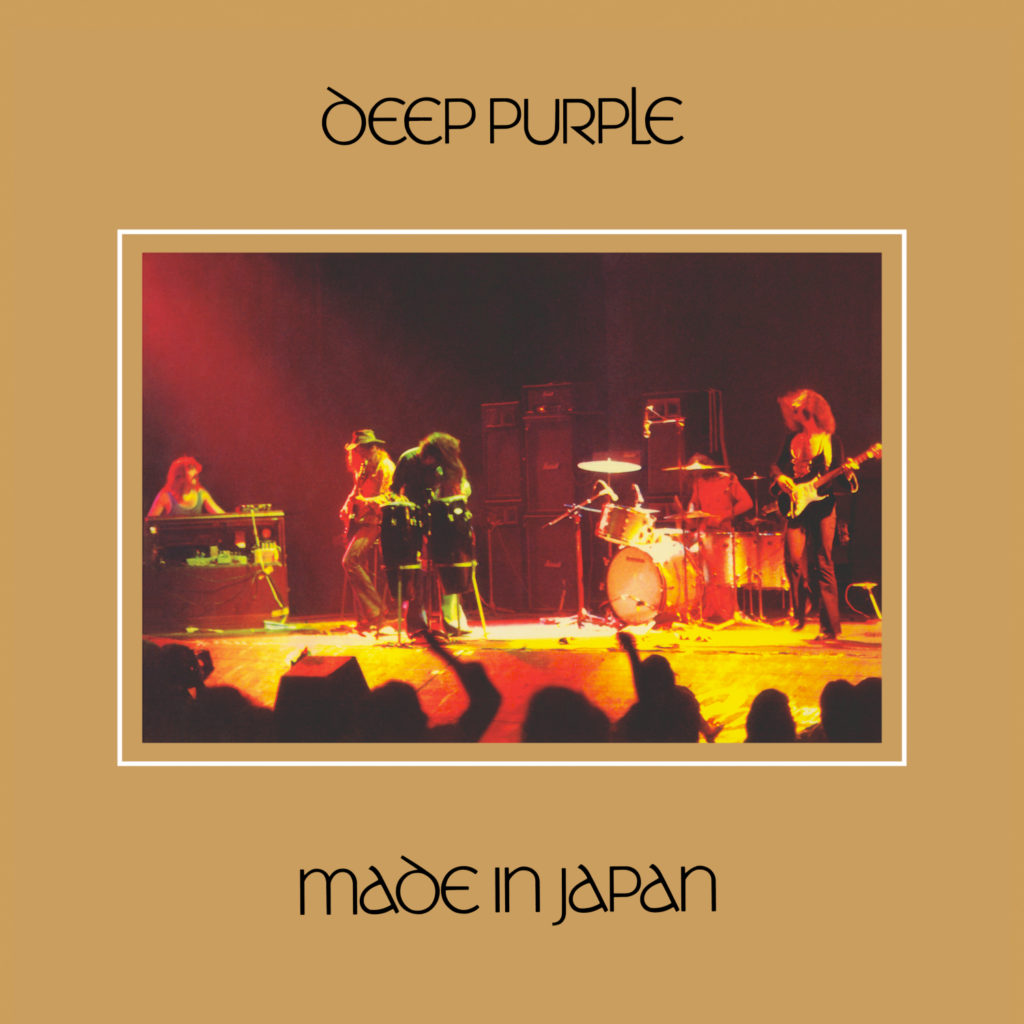 Album Art & Booklet Review

Title was a joke – if something was made in Japan it was thought to be second rate.
Scene between Marty and Doc from "Back to the Future III."
Cover was designed by Glover. Featured a color photo of the band. With the famous font.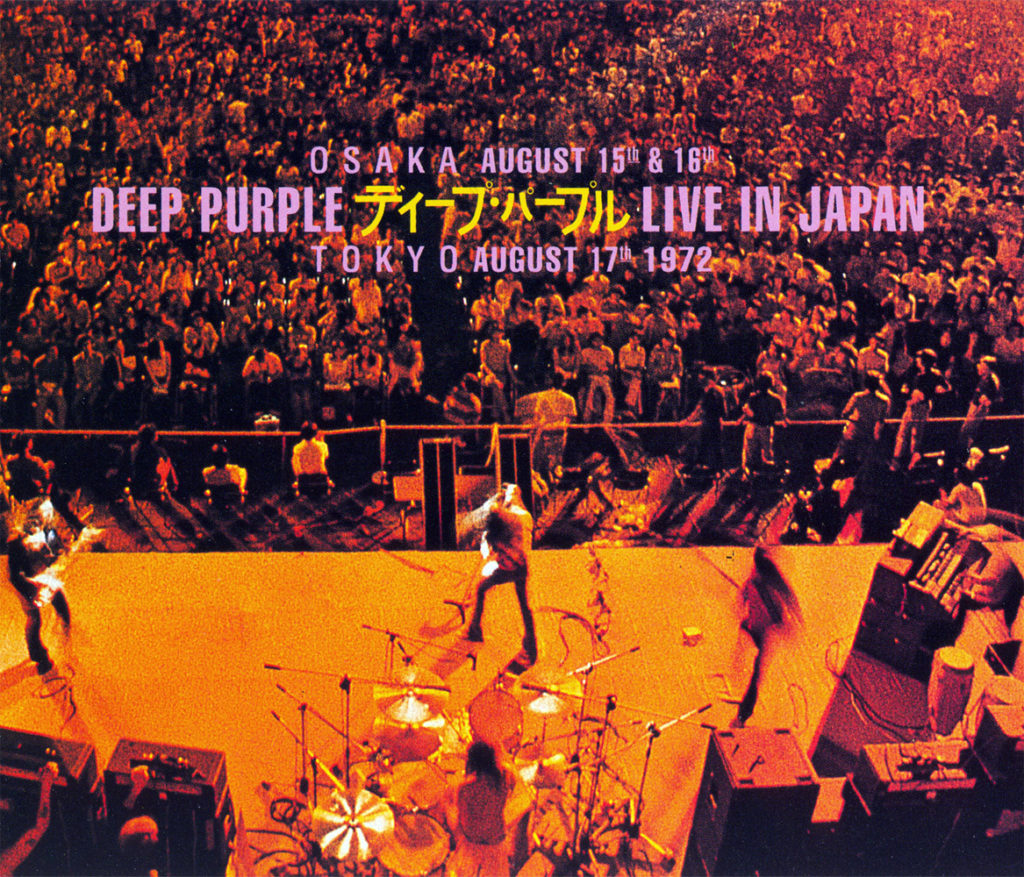 Japanese release featured an overhead shot of the band at the Rainbow in London.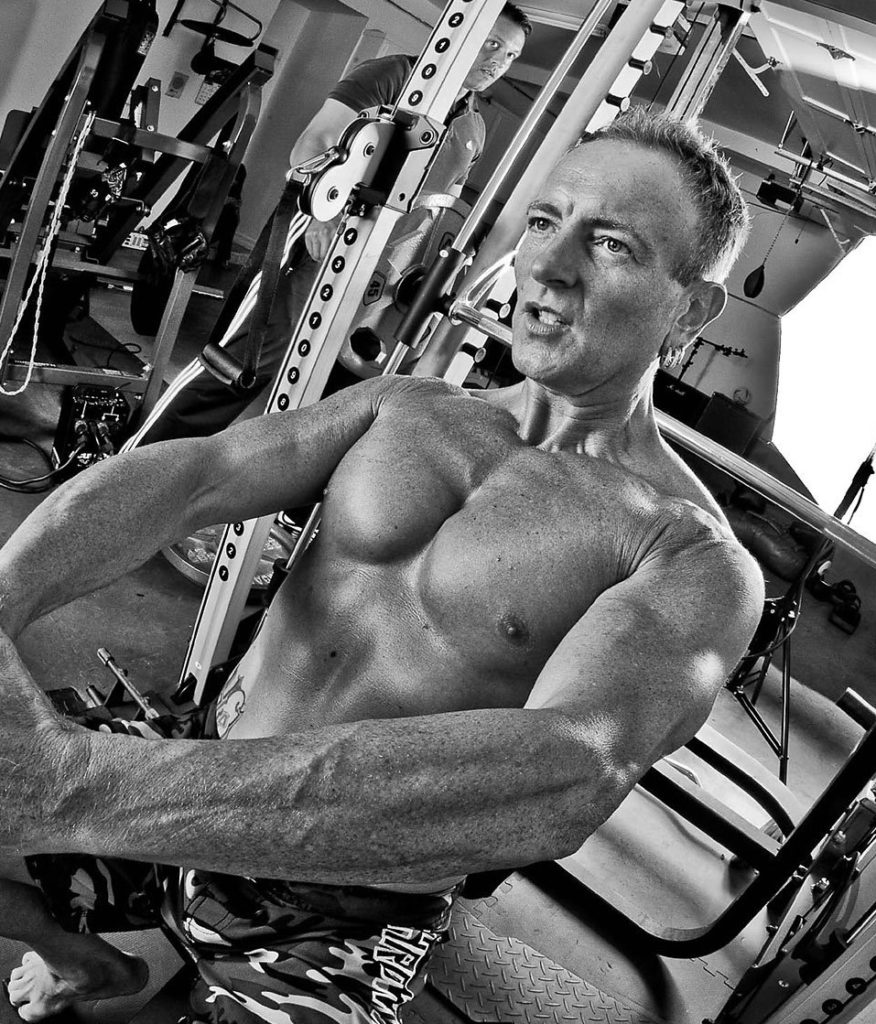 Phil Collen of Def Leppard was at the show and can be seen on the album cover.
Album Details and Analysis:

Recorded three nights, August 15 in Osaka (band was jetlagged thought to be the least impressive of the three nights)
August 16 in Osaka where the bulk of the album is from.
August 17 in Tokyo which was a good performance but was thought to have inferior sound quality.
Highway Star
Child in Time

Osaka – August 16
"You're only about four foot six, but don't worry about it. There's always somebody smaller than you."
Suggestions that this remark was a reference to Ronnie James Dio as Elf would have been opening for Deep Purple at this time.

Smoke on the Water

Osaka – August 15
The August 16 recording's opening riff was too crazy for the record company
Only track from that night
Blackmore's improv opening.
Blackmore talks about how he originally wrote it with this really medieval style lick between the chords but the band didn't like it so he went back to the chords. Sounding just like something out of Blackmore's night. 95% sure Blackmore is pulling our legs with this.
Song extended about another minute.

The Mule

Tokyo August 17
Only a minute and half of the main riff before going into drum solo.
Track preceded by Ian Gillan asking for a bit more volume in the monitor. Blackmore can be heard saying "everything louder than everything else."

Strange Kind of Woman

Osaka August 16
Hearing Ritchie and Ian trade off, which they would do in later years as well.
Very long version at almost ten minutes

Lazy

Tokyo August 17
Extended opening. Vocals don't come in until about 6 minutes in.

Space Truckin'

Osaka August 16
20 minutes, four times longer than original
They'd perfected this with their 20-30 minute versions of Mandrake Root and Wring That Neck.
Blackmore throws in "Jupiter" from Holst's the Planets.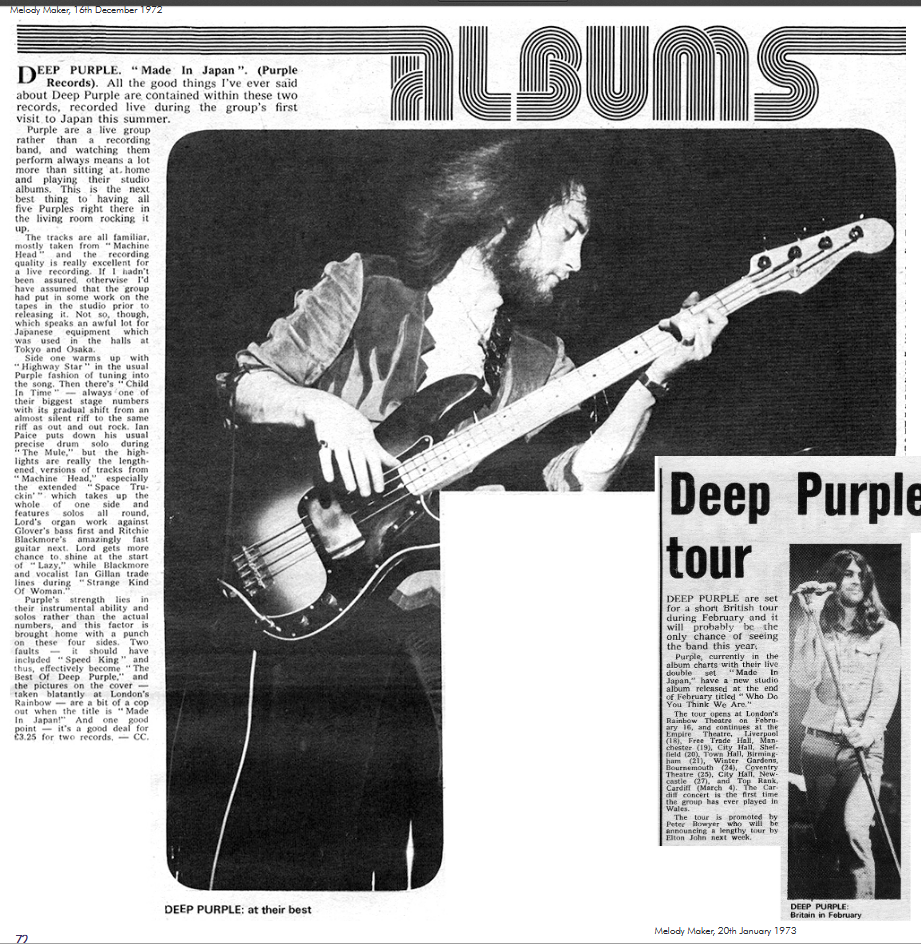 Reception and Review

The album was an immediate success.
The band really didn't give it much thought. Glover and Paice were the only two who showed up for the mixing sessions.
According to Martin Birch Gillan and Blackmore have never heard the finished album. (From "Smoke on the Water")
Release was delayed in the US until April (January in the UK) because they didn't want too much overlap with "Who Do We Think We Are"
Warner Bros released the Smoke on the Water single coupling it with the live recording.
Gillan was critical of his performance on the album (despite having never heard it?). Paice thought it captured the spirit of the band at the time.
Jon Lord says it's his favorite Deep Purple Album: "The band was at the height of its powers. That album was the epitome of what we stood for in those days."
The critics were very kind to the album as well.
Both versions of "Smoke on the Water" (live and album) were in the American top ten at the same time.
The album redefined Deep Purple and live albums in general.
Expanded edition released with performances not included on main album.
Rumors went around for years that the shows had been filmed. In 2009 they discovered an 8mm film of about 40 minutes from Tokyo that they were able to sync up to the music. This can be seen on the "Deep Purple – History, Hits, and Highlights" DVD.
In The News . . .

This Week in Purple History . . .
July 22 through July 28

July 25, 1969 – Hallelujah Single Released
July 28, 1954 – Steve Morse is born
July 26, 1974 – Windows is released
July 28,1979 – Rainbow's Down to Earth
July 22, 2015 – Eddie Hardin Dies
Deep Purple Deep Track of the Week:

For Further Information:
Listener Mail/Comments

Comments about the show? Things you'd like us to cover? We'd love to hear from you. Send us an email at info@deeppurplepodcast.com or @ us on Twitter, Facebook, or Instagram.