Apologies for no video this week. We had some audio/video issues and lost about 75% of the video in the process. Decided to just do audio only instead.
Subscribe at Apple Podcasts, Stitcher, Google Podcasts, Overcast, Pocket Casts, Anchor.fm, Breaker, PodBean, RadioPublic, or search in your favorite podcatcher! 

Show Updates:

T-Bone's Prime Cuts – An excellent "deep cut" classic rock show.
Skynyrd Reconsydyrd – A great podcast that could turn anyone into a Skynyrd fan!
Sabbath Bloody Podcast – One of our earliest supporters and a great podcast about Black Sabbath!
YouTube problems with copyright issues.
Ian Desrosiers on Twitter explains similarities between "Rockstar" by Warpig and Deep Purple's song "Fireball."

Notes that there are hints of "Speed King" and "Hard Lovin' Man" in this song.
Some speculate DP was playing this live and that Warpig stole it from them.
DP don't exactly have a clean track record to support this.
Patron Thanks!

Notes From The Field:

John's Ace Frehley show review.
Lead Up To Album & Writing:

The day that "Fireball" was released, it appeared in the press that Deep Purple would be recording a follow up album in Switzerland using the Rolling Stones' mobile unit.
They were now under the newly formed "Purple Records."
Management wanted to avoid the disjointed recording sessions that lasted forever like the previous albums.
They had the month of August off to prepare for a three month tour schedule after which they would record "Machine Head."
Fireball didn't have as many songs that worked well in a live setting. (i.e. "Anyone's Daughter").
They went to America for a month and were headliners for the first time.
Two shows in Gillan became very sick and they did a third show with Glover on lead vocals. It didn't work out and the band went home.
While Ian recovered Blackmore and Paice went into the studio to work on their Baby Face project with Phil Lynott. This never panned out.
Glover was really happy to have the break. "I got most of my ideas during the four weeks off just because I was able to relax."
They also wanted to try recording outside of a studio and they picked the casino in Montreux. The idea was to record on the stage as if they were performing a concert.
The Rolling Stones had this hugely expensive mobile recording studio that allowed them to record in more interesting locations. It was so expensive to operate they'd begun renting it out to other acts to offset the cost.
They worked with Claude Nobs on the Montreux Jazz Festival and Claude, who was involved in running the Casino.
There were plans that after they recorded the album they would perform it live and record that as well to release a double album with one half in the studio and the other half live.
Machine Head title is about the part of the guitar. Roger Glover came up with it. "Struck me as a good title. It had the word head, of course, which is always a good word to have." Roger Glover said the term "has a certain menace to it."
Went to Switzerland to use the Rolling Stones' mobile unit.
Taxes, you can avoid paying taxes if you make it outside the country.
Recorded in two weeks.
Everything had been worked on in rehearsal except "Smoke on the Water."
They got shut down recording "Smoke on the Water" a The Pavilion and had to find a new place. They they'd only be able to record during the day.
Since the casino was destroyed (more on that later) Claude had to help the band find a new location to record.
Found an old hotel (The Grand Hotel) that was closed for the season. Found the end of a corridor of the hotel.
Because of how the mobile unit was set up it was very difficult to record/listen.

Mobile parked outside front entrance, cables run in
The had to go out of the area they were recording, into a bedroom
On to a balcony, climb over to another balcony
Down the balcony, back through another bedroom
Though two doors, onto the landing
Winding staircase, through hall, to front door
Across the courtyard, to the truck
Up the steps to the truck to hear the playback.
This was in winter, in the snow.

Martin Birth set up a CC TV to monitor things.
Estimated that the album cost £8000 to record, £5000 just for the mobile unit.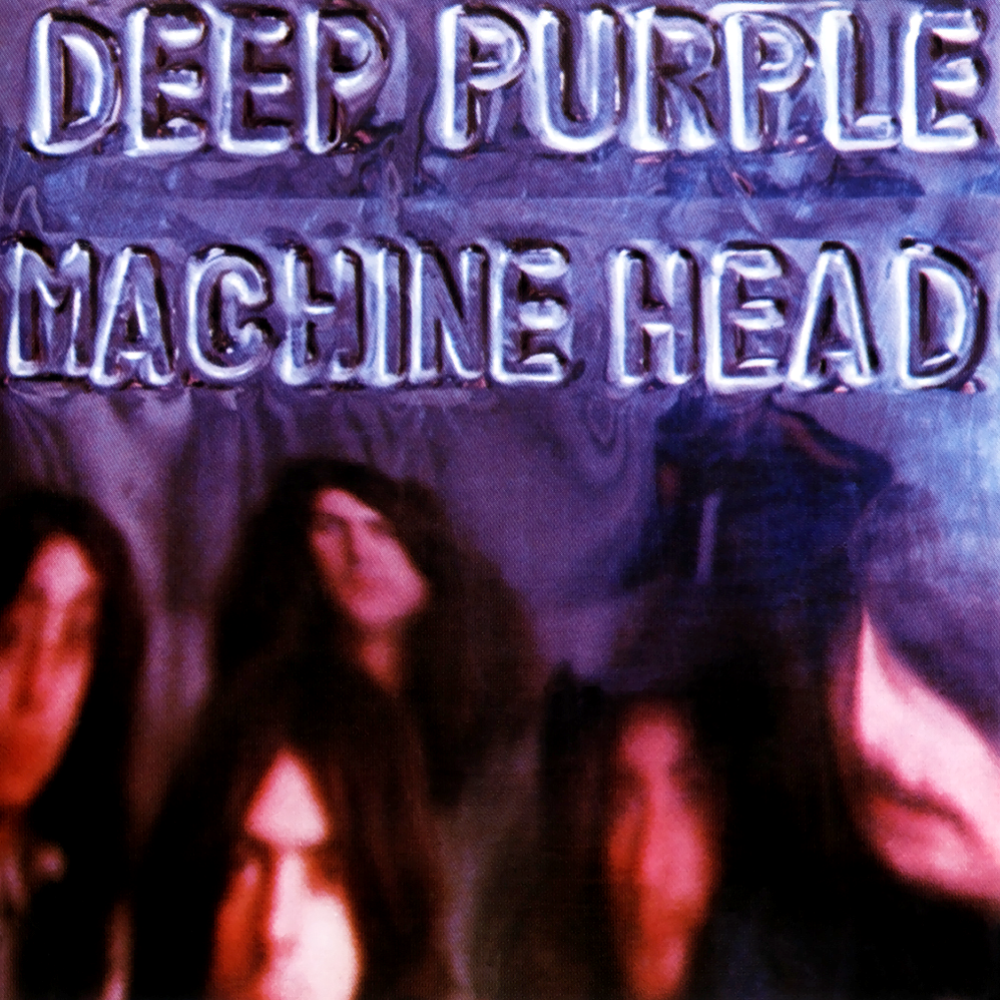 Album Art & Booklet Review

The cover image was made by taking a sheet of polished metal and die stamping the type right onto it. It was then propped up and used as a mirror with the band reflected in it.
If you look closely you can see the camera man, Shep Sherbell.

Born in New York City. In 1960s London he photographed musicians including the Beatles, The Who, Keith Moon, Cat Stevens, Jimi Hendrix, Badfinger, the Rolling Stones, Deep Purple, Frankie Valli, Humble Pie and Grand Funk Railroad. In the mid 70s, Sherbell moved to Washington and became a photojournalist covering the White House and Capitol Hill.
After the photoshoot he sold the camera he used to Roger Glover (his first Nikon!)
Shep passed away on August 18th of last year (2018)

Gatefold includes everyone who worked on the album.
The montage on the gatefold were simply cut up and put together.
Tony Edwards called Roger Glover to the office to suggest which image to use on the album. The rest of the band ignored Tony's request and that's why there are more shots of Roger than anyone else.
The original album came with a lyric sheet written in calligraphy.
Album Details and Analysis:

Highway Star
Maybe I'm a Leo
Pictures of Home
Never Before
Smoke on the Water
Lazy

Space Truckin'
Bonus: When a Blind Man Cries
Reception and Review

Album heavily promoted with ads on TV:
Album reached #1 on the UK charts as well as many other countries. Did not chart in the US.
Has since received 2x Platinum in the US selling over 2 million copies.
Lord: "the apex of what we started to do with In Rock. I think we should try and go around a few corners with the next one. Some people say we don't seem to have progressed very far since In Rock. Where some of that justification lies is in the fact that we haven't really deviated from the set lines and I think it's time we started to shoot for the stars a little bit more."
Blackmore: "I think Machine Head is a good LP. I think the ideas are better and the group were playing well when we recorded it. Two tracks especially – Highway star and smoke on the water – i like. The whole album is a lot better than the last one."
Started to show some stress about writing credits. Agreed in 1969 they'd credit everything to everyone.

Blackmore: "On this LP I wrote six tracks and Roger wrote two."
Glover: "Sometimes I feel I'd like more credit for some of the stuff I do. I think it avoids friction this way, though I can't say it won't in the future. As soon as money comes into it people change; some for better, some for worse."

Glover: "Machine Head was the beginning of the bad period. It was coming because as far as the writing side of it was concerned we'd agreed at the outset that we were going to share everything five ways, because everything we wrote was part of a jam, and in those days we had nothing to lose. It's only when you realise how much money is involved in publishing that people turned around and said 'he had nothing to do with that and yet he's getting a lot of money for it.' Those kind of things cause tension."
By the time the album hit record stores in April of '72 Blackmore was telling journalists the the end was near. ""I suppose we'll see the year out if we're lucky."
One morning Blackmore was late to a hotel reception on the tour. Their roadie, Colin Hart, went to get him and found him in the hallway of the hotel in tears. Blackmore had no memory of what had caused this nervous breakdown but he was able to get it together enough to complete the tour.
In The News . . .

Joe Satriani's "Squares" album released today (July 12)!
This Week in Purple History . . .
July 15 through July 21

July 15, 1956 – Joe Satriani is born
July 16, 2012 – Jon Lord Dies
July 17, 1968 – The album that started it all, "Shades of Deep Purple," is released
For Further Information:
Listener Mail/Comments

Comments about the show? Things you'd like us to cover? We'd love to hear from you. Send us an email at info@deeppurplepodcast.com or @ us on Twitter, Facebook, or Instagram.