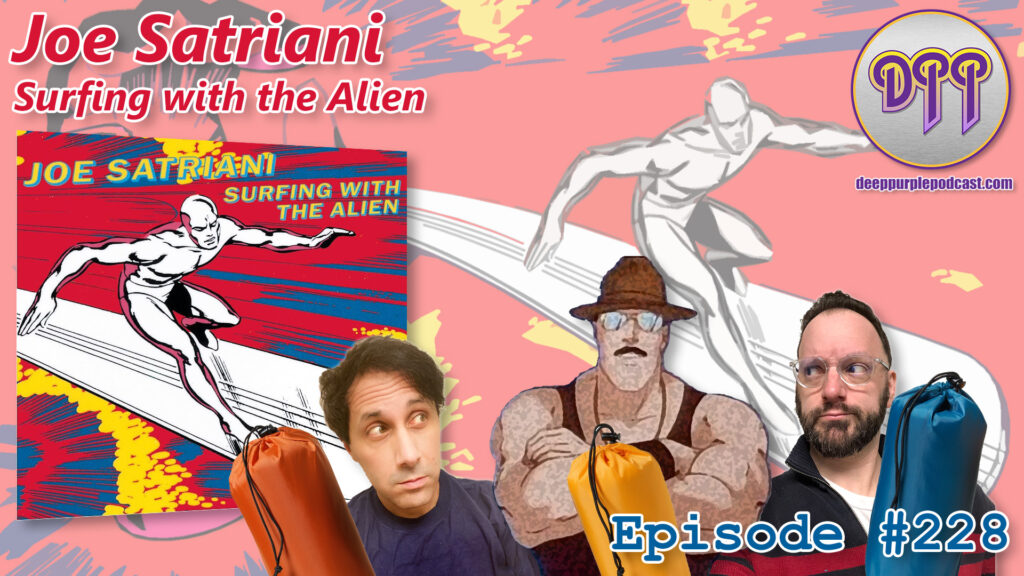 Subscribe at Apple Podcasts, Spotify, Google Podcasts, Overcast, Pocket Casts, Anchor.fm, Breaker, PodBean, RadioPublic, Amazon Music, Pocket Casts, or search in your favorite podcatcher!

<center></center>

How To Support Our Show:

The Deep Purple Podcast is 100% listener supported and ad-free! If you receive value from our show please consider supporting us!

Brendan Ashbrook – Logo Designer

Glenn Hughes Show in September!

The Deep Purple Podcast will be there!
Glenn Hughes Performs Classic Deep Purple
September 19, 2023 – with Yngwie Malmsteen
The Palladium – Worcester, MA
Let us know if you're going for a potential Deep Purple Podcast meetup!
Meetup info to come!
Thanks to Our Executive Level Patrons:

The $25 "Uncommon Man" Tier
The £15 ""Fifteen Squid" Tier

Alan "Ain't Too Proud To" Begg

The £10 "Good Doctor" Tier

Dr. Gill Breis
Dr. Mike Kattan

The Turn it up to $11 Tier

Clay Wombacher
Frank Theilgaard-Mortensen
Mikkel Steen
Will Porter, PhDPP

$10 "Some One Came" Tier

Ryan M
Jeff Breis
Victor Campos
"Better Call" Saul Evans

The "Hughes-O-Ween by 2033" Tier
The "In Memorium" Tier

Gerald "Jerry" Kelly & Family
Patron Updates:

John Miceli writes in (regarding Episode #226 – Rainbow – Live in Passaic, NJ 1979)

Hey Nate this is John Tony Danza Miceli. My friend and I went to that show. We scalped tickets for the show. 50 dollars for 2. Met Ritchie for the first time and got his autograph. During the encore Ritchie threw his Strat at us but we couldn't hold on. To bad any great show and memories. Keep Rocking Guys.
Postcards From The Edge . . . OF CONNECTICUT!
Deep Dive Podcast Network:

Check out our website to find other like-minded shows taking deep dives into individual songs, bands, and albums.

Lead up to the Album:

The album was put together on a limited budget of $13,000.
Satriani used two Kramer Pacer guitars and a modified Stratocaster where he changed the pickups to get different sounds.
Guitar effects used were the Roland JC-120, a Marshall '68 half-stack and a Rockman.
With the limited budget Satriani had to use whatever times and rooms were available. With the limited time he added the effects to tape while he recorded.
The album features a lot of drum machine, much like his debut, to save money.
Jeff Campitelli overdubbed hi-hats, toms, cymbals, and snare.
Recorded and mixed at Alpha And Omega Recording and Hyde Street Studios, San Francisco, California.
Core Band:

Technical:

Album Art & Booklet Review

Art Direction – David Bett

Currently works creative at Columbia Records. Formerly at Relativity, Lous, and Sony.
Worked with 24/7 Spyz (Gumbo Milennium), Steve Vai (Passion and Warfare), Additional albums with Joe Satriani, Peter Frampton, Easy E, Wu Tang Clan, Aerosmith (Honkin' on Bobo), Vinnie Moore.

Cover [Cover Concept] – Jim Kozlowski
Originally Joe was going to title the album "Lord of Karma" but changed it at the suggestion of a British journalist who said that it would give listeners the wrong idea about the album. Joe did his first interview about the album in the summer before it was released. The journalist said, "I don't understand why guitarists always go into some Indian spiritual thing." Joe called the label and asked to change the title to "Surfing with the Alien" because everyone will know he has a sense of humor and doesn't take himself too seriously.
Satriani had a stipulation in his contract that his albums cannot have any negative or violent imagery.
The album cover features the Silver Surfer with the hand of Galactus on the back cover. The artwork was licensed from the publisher and was taken from Silver Surfer #1. Artwork was drawn by John Byrne. Byrne did not receive a royalty for the use on the album cover.
Satriani said he came up with the name and was unfamiliar with the comic book character. His production manager, Jim Kozlowski, was a big comic book fan and had used the name "Silver Surfer" when he was a radio DJ. He suggested the album art.
Marvel Comics later repaid Satriani by naming a planet "Satriani" in his honor.
The licensing for the cover was limited and had to be renewed. In 2018 Marvel and Satriani could not come to an agreement so the cover art had to be redone. All digital retailers and deluxe editions feature the new artwork.
The license was around $5,000 for 20 years. Silver Surfer was not doing well and this album helped boost it. Every year they kept "tightening the screws" on how much they charged to renew the artwork and eventually Joe had to just stop using the artwork.
Thanks to Our Core Level Patrons:

The $7.77 KeepItWarmRat Tier
The $6.99 "New Nice Price" Tier

Spike the Rock Cat
Sugar T

The Episode $6.66 Tier

Steve Coldwell
Arthur Smith
Anton Glaving
Charles Meadows

The $6.65 "Almost Evil" Tier

Kenny Wymore
Michael Bagford

$5.99 The "Nice Price" Tier

Robert Smith
Peter from Illinois
Karl Hellberg

The 60 Kroner "Scandinavian Nights" Tier
The $5.55 "What's Goin' On Here" Tier
$5 "Money Lender" Tier

John Convery
German Heindl
Adrian Hernandez
Jesper Almén
Oleksiy The Perfect Stranger Slyepukhov
Mark Hodgetts
Kev Roberts
Percival Frequency
Scott Zerns
Cynthia Dube
Raff Kaff
Coyote Bongwater
Album Tracks:

Surfing with the Alien

The solos were recorded with a Eventide H949 which was malfunctioning. As it was the end of the studio time they went with the recording giving it its distinct sound.
Satriani said this song was written because he was a huge fan of science fiction. He said in sci-fi aliens are always attacking or trying to kill us but wouldn't it be cool if they wanted to do something fun like go surfing..

Ice 9

Written referencing the substance from Kurt Vonnegut's 1963 book "Cat's Cradle."

Crushing Day

Joe said this was the only solo he worked out in advance. All others were improvised.
Satriani said he regretted this and felt like he had to play this solo as is when ion stage.

Always with Me, Always with You
Satch Boogie

This was the only track that used live drums played by Campitelli. It was originally recorded using a drum machine.
The song fades out quickly at the end as the drum machine was being picked up by the amplifier.
This song was regularly played by Deep Purple in 1993-94 when Joe toured with them.
AllMusic calls this a "ZZ Top homage."

Hill of the Skull
Circles
Lords of Karma
Midnight

A Casio CZ-101 was used to do the flute and orchestrations.
Joe uses two-handed tapping on this song.

Echo
Thanks To Our Foundation Level Patrons:

The £3 "The Aromatic Feed" Tier
The $3.33 Half Way to Evil Tier

Stephen Sharpe
Duncan Leask

$3 "Nobody's Perfect" Tier

Peter Gardow
Ian Desrosiers
Mark Roback
Stuart McCord
Flight of the Rat Bat Blue Light
Øyvind Fjeldbu –
Runar Simonsen –
JJ Stannard
Ruinous Inadequacies
John Miceli
Michael Boyette
Corey Morrissette

The $1.71 "I Want My Own Tier" Tier
The 10 kr "" Tier
The £1 Tier
$1 Made Up Name Tier

The "Dying with the Alien" Leaky Mausoleum
Stephen Sommerville The Concerto 1999 Fanatic
Hank the Tank
Private Eyes
Ashen Lionel
Blackmore's Tights
Steve "Down to Earth" Koeller
Zwopper The Electric Alchemist
Bustin' Out The Spreadsheet

Reception and Charts:

The album peaked at #10 in Australia, #53 in Canada, #16 in New Zealand, and #29 in the US Billboard 200.
The album was certified gold in Australia (35,000 copies), silver in the UK (60,000 copies) and platinum in the US (1,000,000 copies).
From: satriani.com

On August 7th, 2007, Epic/Legacy Recordings celebrated the 20th anniversary of this groundbreaking album with the release of a new expanded edition of Surfing with the Alien. This meticulously restored two-disc set includes the newly remastered album and a previously never-before-seen live show filmed at the Montreux Jazz Festival in 1988. It also features new liner notes written by Joe and special deluxe packaging featuring photos, notes and other memorabilia from Joe's personal archive.
On Nov 29th, 2019, Sony/Legacy released a Deluxe version in conjunction with Record Store Day, with new artwork and a bonus disc, Stripped — the Backing Tracks, featuring the songs with all guitar solos removed. This version received a wider digital release on Jan 14, 2020.
Reviews:

Kerrang!
AllMuisc:

Surfing with the Alien belongs to its era like Are You Experienced? belongs to its own — perhaps it doesn't transcend its time the way the Jimi Hendrix Experience's 1967 debut does, but Joe Satriani's 1987 breakthrough can be seen as the gold standard for guitar playing of the mid- to late '80s, an album that captures everything that was good about the glory days of shred. Certainly, Satriani was unique among his peers in that his playing was so fluid that his technical skills never seemed like showboating — something that was somewhat true of his 1986 debut, Not of This Earth, but on Surfing with the Alien he married this dexterity to a true sense of melodic songcraft, a gift that helped him be that rare thing: a guitar virtuoso who ordinary listeners enjoyed. Nowhere is this more true than on "Always with Me, Always with You," a genuine ballad — not beefed up with muscular power chords but rather sighing gently with its melody — but this knack was also evident on the ZZ Top homage "Satch Boogie" and the title track itself, both of which turned into rock radio hits. This melodic facility, plus his fondness for a good old-fashioned three-chord rock, separated Satriani from his shredding peers in 1987, many of whom were quite literally his students. But he was no throwback: he equaled his former students Steve Vai and Kirk Hammett in sweep picking and fretboard acrobatics and he had a sparkling, spacy quality to some of his songs — particularly the closing stretch of the Middle Eastern-flavored "Lords of Karma," the twinkling "Midnight," and "Echo" — that was thoroughly modern for 1987. The production of Surfing with the Alien is also thoroughly of its year — stiff drumbeats, sparkling productions — so much so that it can seem a bit like a relic from another era, but it's fine that it doesn't transcend its time: it captures the best of its era and is still impressive in that regard.

I actually found a review. It's from a Norwegian magazine called Street Fighter (issue from April/May 1988), which, by the way, was the precursor to Scream Magazine that still exists today, and where I have found a couple of reviews before. Just some useful information first: Street Fighter had a scoring system going from 0 – 100 points, 100 being (obviously) the best score. Surfing With The Alien got 65 points, which means that it was perceived as a really good album. I have included a photo of the review itself and the cover of the magazine.
Here's a translation of the review:
This is an excellent album for guitar freaks. Joe Satriani is one of the greatest guitar players today, and he really proves his chops on his new solo-album. This is, like his previous album "Not Of This Earth", a 100 % instrumental album. What is negative about that, is that it's too boring with only instrumental songs through the whole album. I would have been much more satisfied if he had joined up with a good singer. But – of course – the guitar playing matters a lot on this album. The guitar playing alone is worth 90 points, but I don't want to give such a high score for a purely instrumental album. But what could have been if a great vocalist could have sung most of the songs? Well, we must take this album as the study in great guitar work that it is. Joe Satriani has his distinctive style, and when a song starts, you can hear that it's him immediately. Guitar freaks must buy this album.
For Further Information:
Listener Mail/Comments

Comments about the show? Things you'd like us to cover? We'd love to hear from you. Send us an email at info@deeppurplepodcast.com or @ us on Twitter, Facebook, or Instagram.