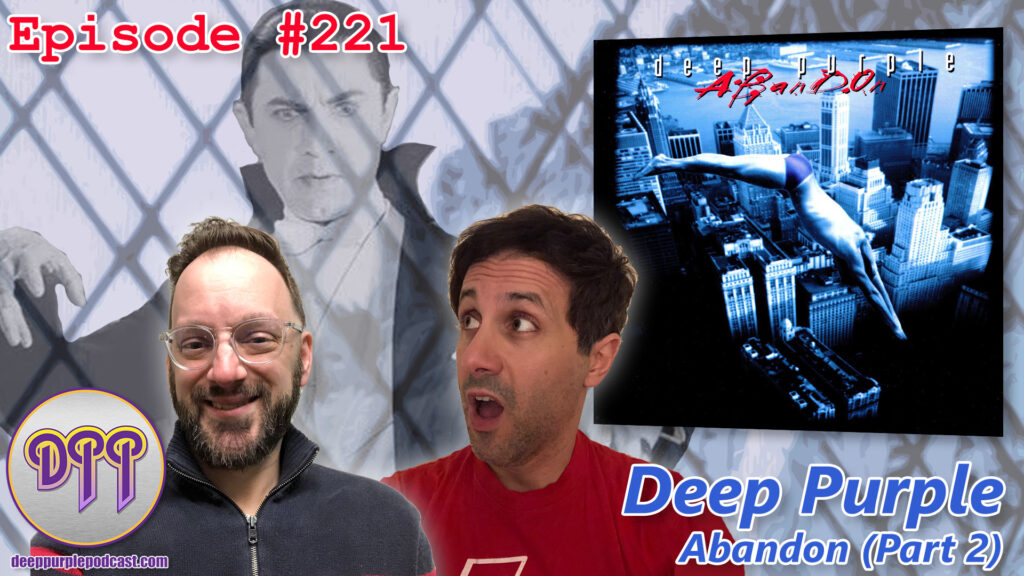 Subscribe at Apple Podcasts, Stitcher, Google Podcasts, Overcast, Pocket Casts, Anchor.fm, Breaker, PodBean, RadioPublic, Amazon Music, or search in your favorite podcatcher!

How To Support Our Show:

The Deep Purple Podcast is 100% listener supported and ad-free! If you receive value from our show please consider supporting us!

Brendan Ashbrook – Logo Designer

Glenn Hughes Show in September!

The Deep Purple Podcast will be there!
Glenn Hughes Performs Classic Deep Purple
September 19, 2023 – with Yngwie Malmsteen
The Palladium – Worcester, MA
Let us know if you're going for a potential Deep Purple Podcast meetup!
John's JCS Experience:
John and Rich go to see live screening of Jesus Christ Superstar and get to meet the cast!
Thanks to Our Executive Level Patrons:

The $25 "Uncommon Man" Tier
The £15 ""Fifteen Squid" Tier

Alan "Ain't Too Proud To" Begg

The £10 "Good Doctor" Tier

Dr. Gill Breis
Dr. Mike Kattan

The Turn it up to $11 Tier

Clay Wombacher
Frank Theilgaard-Mortensen
Mikkel Steen
Will Porter, PhDPP

$10 "Some One Came" Tier

Ryan M
Jeff Breis
Victor Campos
"Better Call" Saul Evans

The "Hughes-O-Ween by 2033" Tier
The "In Memorium" Tier

Gerald "Jerry" Kelly & Family
Listener Email
Listener Craig writes in with an interesting fact about Ronnie James Dio's pants from Live in Munich. His friend purchased them at an auction!
Apple Podcasts Reviews:

Sdmfbiker – from the US – 5 Stars!
JUST LISTEN
These 2 guys are great. It's just them riffing and their opinions. Very interesting and more importanly…entertaining!!!!
Postcards From The Edge . . . OF CONNECTICUT!
This time coming to us from Massachusetts!
Deep Dive Podcast Network:

Check out our website to find other like-minded shows taking deep dives into individual songs, bands, and albums.

THE SECOND STUDIO REPORT 1997 (actually the third)

Studio work is in pause mode.
Twelve songs are on the wing.
The backing tracks are shut up in coardboard boxers and stacked on a shelf somewhere, patiently awaiting completion.
There are several album titles.
More than that I cannot add other than stating that the gigs we just played in Atlanta, Orlando, Pompano Beach, Myrtle Beach, New Orleans, and Chicago (where Steve Married JAcqui on stage congratulations!) were more fun than should be allowed.
Two new songs were debate; Any Fule Kno That and Seventh Heaven.
The former needs more work, and was dropped, but is promising.
The latter has turned into a live song that is just a treat to play.
My family let me back in the house, accidentally I think.
Thank you for all your support, it would all be for nothing if you weren't there.
HArk, I hear the sound of bells.
That time of the year again.
Good luck and merry be.
RG
Jack Ruby

Originally titled "Poughkeepsie Jam" and was something they'd worked on during the House of Blue Light sessions.

She Was

Originally titled "Dirty Water."
Glover also mentions that he can't remember if they changed the title to "She Was" or "Untouchable."
Glover toyed around with playing slap bass on this track.
Glover says after recording bass for this song on November 14, 1997 he starts to ge the first idea of what the finished album might be like.

Watsername

Working title of "F# Trudge."
Glover recorded the bass tracks for this on November 5, 1997. Glover works with Darren for the computer edit at the beginning of Almost Human. He also receives "the Episode Six CD" and says it sounds brilliant considering it was recorded straight off the radio and it brings back a lot of memories.
Based on the timeline he is likely referring to this live release: Episode Six – The Radio One Club Sessions Live 1968/69
According to Glover Morse put extra effects on Whatsername by hitting his guitar with bass drum beaters, strange bits of metal, and other objects.

69

Originally titled "Freight Train."
Steve Morse brought this in as one of the first songs they worked on in September of 1997.
While working on the song in the form of Freight Train the band goes to check out Joe Satriani who is playing nearby. Steve Morse gets up on stage and jams with him. This is during the G3 tour.
From Satriani's site: http://www.satriani.com/G3/1997/tour_notes-usa.html

After that it was time to move on to Florida for three nights – St. Petersberg, Orlando at the new House of Blues and Ft. Lauderdale. At the House of Blues, Ian Gillan, Roger Glover, Ian Paice and Steve Morse joined the party and Steve Morse jammed with Joe, Steve, Kenny and Robert for a superb night of guitars.

During tracking for the organ Lord's Leslie breaks down. They get replacement parts delivered. The new parts emit an RF signal which makes it impossible to place a microphone anywhere near them. By the time they get the organ working again it's too late to get a good track. Glover and Darren work on computer work.

Evil Louie

Had a tough time with this one. At one point Glover considered using the demo for the album.
February 16, Roger works on bass.Keith starts engineering for vocals. Gillan has a cold but Glover says he does a nice job on Evil Louie.
January 17, Evil Louie starts to come together. Glover goes to see Titanic. "Over three hours, the production is huge. Not surprising of $200,000,000."

Bludsucker (Gillan, Blackmore, Glover, Lord, Paice)
Some of the ideas that come out in the first group of sessions include: Wah Wah, Seventh Heaven, Oh Darlin' Blues, Evil Louie, Talk Radio, Last Jam, and a few others.
Talk Radio – Glover and Gillan both didn't like it. Lord played clav on it!
The Stallion

THE THIRD STUDIO REPORT (Actually the fourth)

The album is done. Sort of. It's not really done until it's in your sweaty hands of course, when there's not a chance in Hell we can fiddle with it some more, at least not with current technology.
I suspect that at least some of it is palatable if not downright edible.
Once again, partially single-handedly, Darren Schneider did an heroic job., As did our families for putting up with us. A big thank you to them.
There are several titles for the album, all of which turn out to be ABANDON.
As of this writing I cannot confirm how many tracks there are except to say it's more or less than one and two together. A Month the song titles are Seventh Heaven, Any Fule Kno That, Almost Human, Watching thew Sky, JAck Ruby, Fingers To The Bone an dDoes Your Chewing Cum Lose Its Flavour On The Bed Post Overnight? (One of those is a red herring, put in for no other reason than to confuse me).
As with most albums around which I've been revolved this one has had its share of snakes and ladders in between the pinnacles.
There have been inversions, diversions, new versions, delays, rallies, volleys, objections, inspections, rejections, thin skins, thick skins, drum skins, milliseconds, second hands, second thoughts, picnics, nit-picks, worn picks, rages, cages, mazes, tears or joy, tears of defeat, tears of trousers, successes, excesses, big messes, lost keys, Hammond keys, wrong keys, first takes, mistakes, high stakes, battles, kettles, bottles, delusions, exclusions, tea infusions, spare parts, private parts, extra parts, sore fingers, sore throats, seesaws, headaches, headphones, head games, and all the usual fun of the fair.
I get to have the special jacket removed soon.
Good luck. 😉 RG

Thanks to Our Core Level Patrons:

The $7.77 KeepItWarmRat Tier
The $6.99 "New Nice Price" Tier

Spike the Rock Cat
Sugar T

The Episode $6.66 Tier

Steve Coldwell
Arthur Smith
Anton Glaving
Charles Meadows

The $6.65 "Almost Evil" Tier

Kenny Wymore
Michael Bagford

$5.99 The "Nice Price" Tier

Robert Smith
Peter from Illinois
Karl Hellberg

The 60 Kroner "Scandinavian Nights" Tier

Zwopper The Electric Alchemist
Knut Morten Johansen –

The $5.55 "What's Goin' On Here" Tier
$5 "Money Lender" Tier

John Convery
German Heindl
Adrian Hernandez
Jesper Almén
Oleksiy The Perfect Stranger Slyepukhov
James North
Mark Hodgetts
Kev Roberts
Percival Frequency
Scott Zerns
Cynthia Dube
Raff Kaff
Bustin' Out The Spreadsheet

Reviews:

Darker Than Blue Issue 51 May 1999

http://www.deep-purple.net/DPASmags/dtb51/dtb51.html#1
I loved "Purpendicular". Not all the tracks worked, but overall there was such a spirit of unleashed creativity and freedom that you couldn't help but be swept along by it all. Deep down I wasn't hugely convinced by "Abandon" to begin with. It seemed powerful, well performed and hugely energetic, but lacked some of the sense of fun and freedom which had been a hallmark of "Purpendicular". What I'd missed on those early listens was just how well the loose, almost free-form structures on which tracks like "Rosa's" and "Ted" had been built have now been tightened and developed into a whole new charging rock and roll beast upon which much of "Abandon" tries to ride. In some ways perhaps I'm not even sure the band themselves have worked out how to harness what they've let loose, and there are times when a few awkward or just plain cliched bars creep in to spoilt the effect – and it was these which stuck out like a sore thumb on the first few plays.
It finally dawned on me that Deep Purple were at times he pushing rock to boundaries which hitherto I felt were only being challenged by some of the best of the industrial tracks I've been into for a few years now by outfits like Nine Inch Nails, Ministry and Skinny Puppy. That same loud finely distilled adrenaline rush is also present in several places on "Abandon". "Any Fule No That" sets the tone, with a grungey keyboard and guitar which provides a dense layer of power augmented by the swing of drummer Ian Paice. Over all this Gillan's vocals cut through like a knife: stick your finger in your ear – indeed. But take it out at only 4 minutes 20 seconds? Chicken. Too short. They try a similar approach on "Almost Human" but the mix lets it down a little, particularly on the drums which don't come through clearly enough. The track came totally into focus at the live shows, and as a result the studio cut now seems little more than a blueprint.
It's on "Seventh Heaven" that they really begin to piss on just about every other band in town. The first thirty seconds or so form a Concerto all of their own (hint), then they turn on the heat and roast your eardrums as the track explodes out of the speakers. Ian Paice goes totally absolutely bonkers beserk, clobbering everything within reach, though almost never in the order you expect or could predict. They cool it a touch to mellow into some bass'n drums, and Steve Morse is brought fully into the frame, meshing immaculately with the underlying work, and going with the flow as they build the energy level back up to an awesome peak, leaving you gasping as they crash back into the verse. I've been gently kissing the ground they walk on (off and on) for thirty years now, and see no reason to stop while they can deliver tracks like this.
"Watching The Sky" delivers some spine tingling treated vocals over an off the wall riff, then they push everything up to ten for one of the best blasts Purple have ever committed to record. Breathtaking stuff, and I'll even forgive them the cliched "luggage at the station" break, although frankly they ought to know better. At around 4.10 the band suddenly peak in a moment of sublime energy which defies description. "She Was" is my Deep Purple. On the face of it simple beyond belief, don't you try even explaining it. You can't. No other band on the planet can do this. Gillan is one hell of a lucky guy, and revels in the situation. There's a totally unexpected middle eight and once more Lord and Morse gel, bending notes together and letting the atmosphere build majestically before the hypnotic beat returns, and disappears as suddenly as it arrived. I definitely concur with many people's opinions that it isn't an easy album to get into, nor it is so instantly memorable as the previous offering – relying more on sheer energy than hook lines to win you over. It takes patience, and a lot of volume. That alone will limit it somewhat. It's by no means perfect, but I'm glad I gave it more time before trying to gather my thoughts as I'm sure the review wouldn't have been so positive if I hadn't.

AllMusic.com – Abandon Review by Stephen Thomas Erlewine

Deep Purple continued cranking out new albums into the late '90s, despite diminished audiences and little attention from the media. But as long as they continued to satisfy their hardcore fans, those factors didn't matter; Abandon should satisfy those fans. Granted, the band isn't as young and energetic as they once were, but they are willing to try new material, which can't be said about other aging hard rockers from the '70s. The addition of guitarist Steve Morse has revitalized the band and he sounds more a part of the band here than he did on his debut, Purpendicular. Abandon is a harder-rocking album than its predecessor, but there's a number of layers to their rock, as they occasionally stretch into challenging neo-prog territory. But the main thing about the album is that it hits hard and heavy — harder than any Deep Purple album in recent memory and that makes a welcome revelation for hardcore followers.
*** out of 5

https://www.albumoftheyear.org/genre/58-hard-rock/1998/

#10 of 16
60 Critic Score (based on AllMusic), 44 User Score
Merch, Etc.

Some promo materials sent by Jeff and Rich
Promo singles
Thanks To Our Foundation Level Patrons:

The £3 "The Aromatic Feed" Tier
The $3.33 Half Way to Evil Tier

Stephen Sharpe
Duncan Leask

$3 "Nobody's Perfect" Tier

Peter Gardow
Ian Desrosiers
Mark Roback
Stuart McCord
Flight of the Rat Bat Blue Light
Øyvind Fjeldbu –
Runar Simonsen –
JJ Stannard
Ruinous Inadequacies
John Miceli
Michael Boyette

The $1.71 "I Want My Own Tier" Tier
The 10 kr "" Tier
The £1 Tier
$1 Made Up Name Tier

The "I Got 69 Problems But a Leak Ain't One" Leaky Mausoleum
Stephen Sommerville The Concerto 1999 Fanatic
Hank the Tank
Private Eyes
Ashen Lionel
Blackmore's Tights
Steve "Down to Earth" Koeller
For Further Information:
Extra Thanks To:

Øyvind Fjeldbu for kindly sending over scans of his Abandon tour booklet!
Thanks to Jeff Breis for sending over items from his collection.
Thank you to Steve Clowes for sharing bootleg recordings of early versions of "Any Fule Kno That" and "Seventh Heaven."
Rich Shailor for sending over some Abandon swag!
Listener Mail/Comments

Comments about the show? Things you'd like us to cover? We'd love to hear from you. Send us an email at info@deeppurplepodcast.com or @ us on Twitter, Facebook, or Instagram.