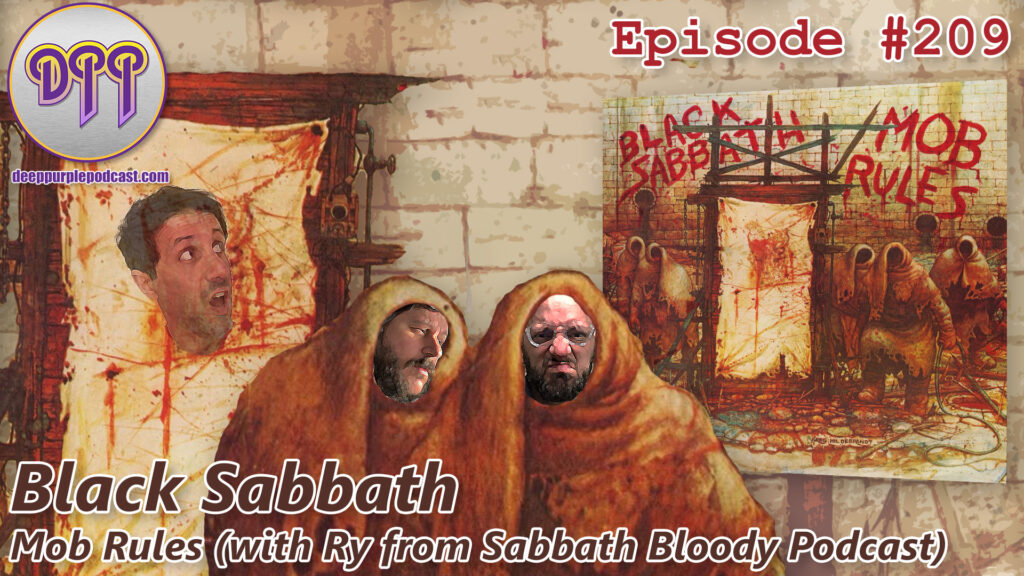 Subscribe at Apple Podcasts, Stitcher, Google Podcasts, Overcast, Pocket Casts, Anchor.fm, Breaker, PodBean, RadioPublic, Amazon Music, or search in your favorite podcatcher!

How To Support Our Show:

The Deep Purple Podcast is 100% listener supported and ad-free! If you receive value from our show please consider supporting us!

Brendan Ashbrook – Logo Designer

Our Guest This Week:

Thanks to Our Executive Level Patrons:

The $25 "Uncommon Man" Tier
The £15 ""Fifteen Squid" Tier

Alan "Ain't Too Proud To" Begg

The £10 "Good Doctor" Tier

Dr. Jill Breis
Dr. Mike Kattan

The Turn it up to $11 Tier

Clay Wombacher
Frank Theilgaard-Mortensen
Mikkel Steen
Will Porter

$10 "Some One Came" Tier

Ryan M
Jeff Breis
Victor Campos
"Better Call" Saul Evans
Deep Dive Podcast Network:

Check out our website to find other like-minded shows taking deep dives into individual songs, bands, and albums.

Lead up to the Album:

Bill Ward felt strongly that Sabbath without Ozzy wasn't Sabbath.
While he like Dio and Gillan personally he just couldn't see himself in the band, even though he would briefly return to record his only sober record with the group, "Born Again."
Vinny Appice's first album was with Rick Derringer's Derringer band. He had also played with John Lennon.
Dio says they chose Appice because he had a similar style to Bill Ward.
With Appice in the band Dio said: "We had Vinny and Tony and myself and Geezer – three Italians and Geezer Butler! In fact, Geezer used to call us Geezer and the Italians!"
Iommi says Heaven and Hell had been partially written prior to Dio joining and on this album there was a bit more collaboration with Iommi and Dio working songs out together.
Heaven and Hell had been their last record for their deal with Warner Bros. As it was the last it didn't get great promotion until it started selling well.
Dio describes Geezer as being a very negative person and that this writing process for this album was difficult. He says Geezer hated America and just wanted to be at home in England.
Geezer said in interviews that Ronnie assumed a lot of the credit for Heaven and Hell's success. Geezer perceived it as Ronnie coming in and saving Black Sabbath.
Geezer said a tension grew between him and Tony and Dio and Appice and they'd go into the studio separately.
Dio had been bothered that the whole band was credited on the previous album where it was he and Tony who wrote it.
This time it was credited to everyone by Appice. He said he didn't care even though a lot of the songs came out in jams because he was just happy to be in Black Sabbath.
They bought a mixing board thinking they could save some money by recording at Tony's house in LA.
They ended up deciding that wouldn't work and recorded most of the album at The Record Plant.
They began recording at Tittenhurst (John Lennon's home) and Dio recalls bumping into David Coverdale there because they were just finishing up recording there. They recorded E5150 and the movie version of "The Mob Rules" there.
Dio said they learned of John Lennon's death on thei flight over to England. Dio was slated to stay in John Lennon's room and he didn't want to stay in there because he was scared.
Core Band:

Technical: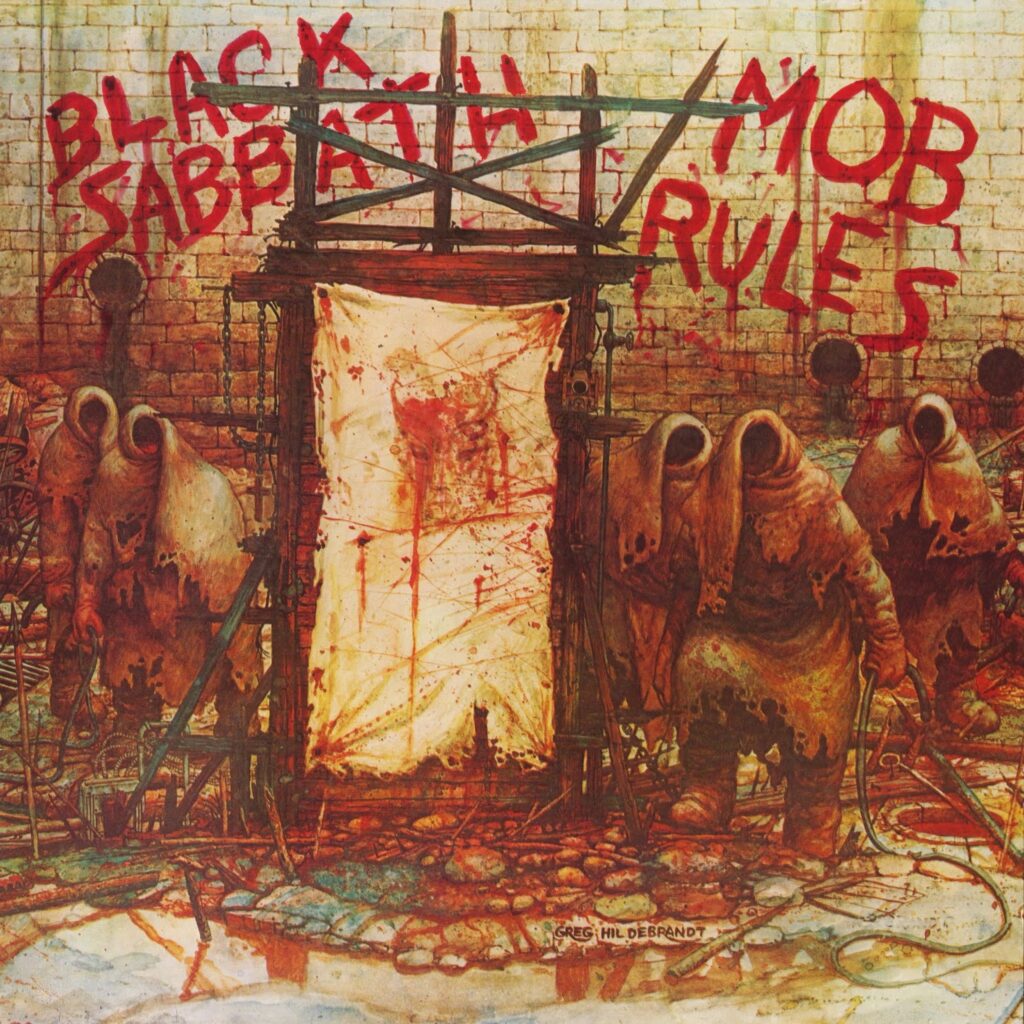 Album Art & Booklet Review

Art Direction – Richard Seireeni

Did album covers for Diana Ross, Kansas, Alice Cooper, Rod Stewart, Chaka Kahn.

Artwork [Art], Coordinator [Album Coordination] – Paul Clark (9)

Also did artwork for Live Evil. Went on to work with Steve Hacket. Listed as "management" on Born Again.

Illustration – Greg Hildebrandt

He and his brother Tim worked together known as "The Brothers Hildebrandt" and worked on sci-fi and fantasy artwork together.
Also did artwork for Trans-Siberian Orchestra.
The brothers may be best known for their "Style B" poster for the UK release of "Star Wars."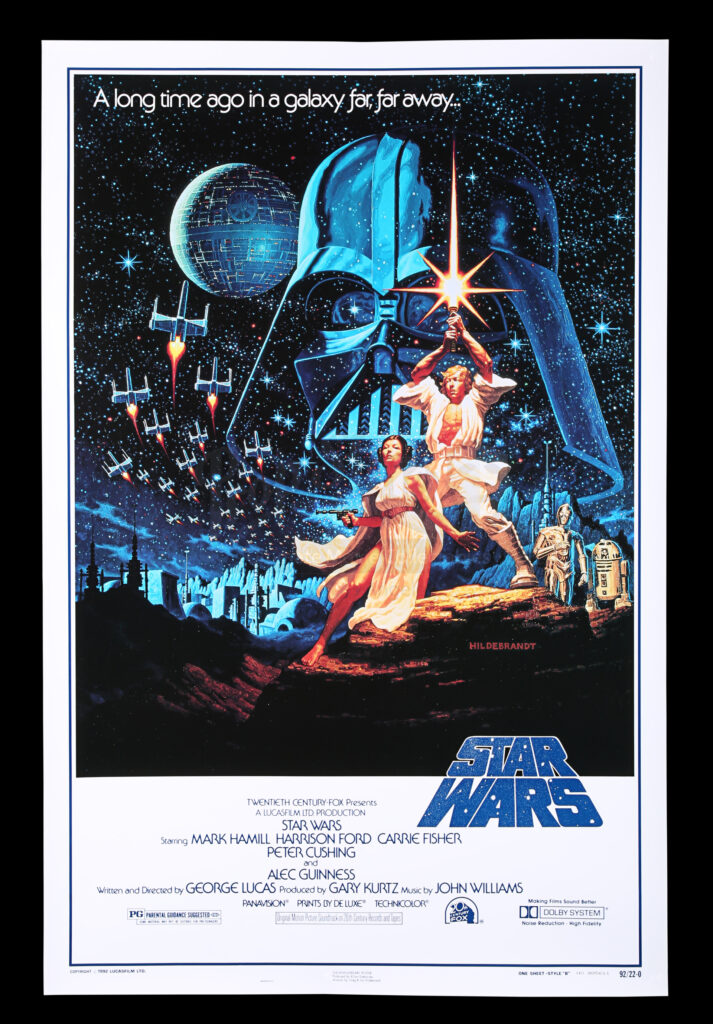 Rumor is that the words "Kill Ozzy" are written underneath by the artist's signature on the painting.
In reality the painting had been done in 1971 entitled "Dream 1: The Crucifiers" and was licensed by Black Sabbath.
One label rep claimed that Black Sabbath had requested this be added to the painting but there doesn't seem to be anything to back this up.
The painting's original title was "Mob Dream."
The canvas stretched out in the center was supposed to be the stretched skin of a person with the face left intact.
Thanks to Our Core Level Patrons:

The $7.77 KeepItWarmRat Tier
The $6.99 "New Nice Price" Tier
The Episode $6.66 Tier

Steve Coldwell
Arthur Smith
Anton Glaving

The $6.65 "Almost Evil" Tier
$5.99 The "Nice Price" Tier

Robert Smith
Peter from Illinois
Michael Bagford
Karl Hellberg

The 60 Kroner "Scandinavian Nights" Tier

Zwopper The Electric Alchemist
Knut Morten Johansen –

$5 "Money Lender" Tier

John Convery
German Heindl
Adrian Hernandez
Jesper Almén
Oleksiy The Perfect Stranger Slyepukhov
James North
Mark Hodgetts
Will Porter
Kev Roberts
Percival Frequency
Scott Zerns
Cynthia Dube
Raff Kaff
Richard Fusey
Album Tracks:

All songs were written by Robbie James Dio, Tony Iommi, and Geezer Butler. All lyrics were written by Ronnie James Dio.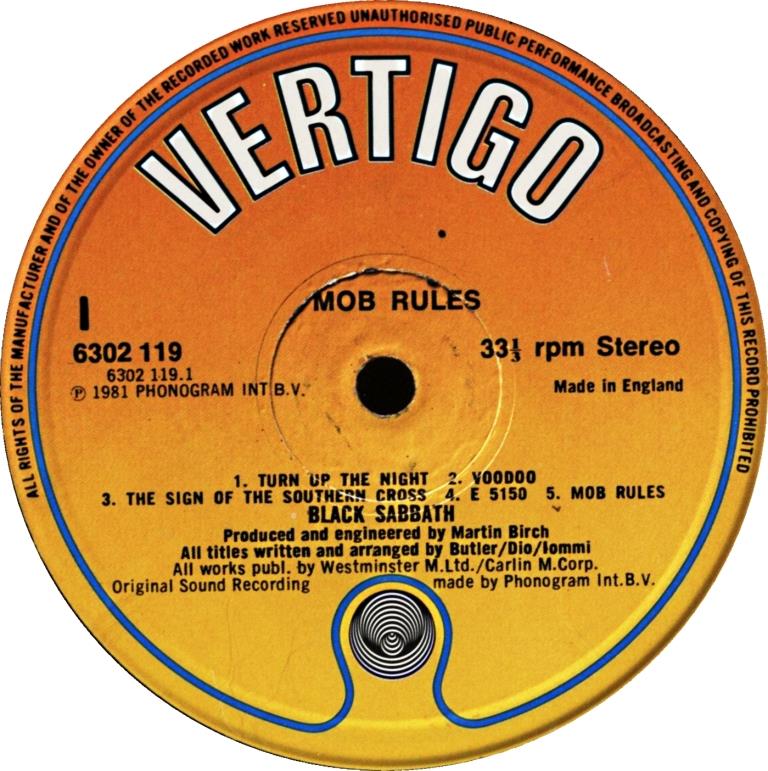 Side One:

Turn Up the Night

Ronnie said he was never a fan of this song and that it was just "all right."
It was issued as a single with the B-Side "Lonely Is The Night" and made it to #37 in the British charts.
The song starts off the comparisons many make to "Heaven and Hell" with people saying it's just a weaker version of "Neon Knights."

Voodoo

Ronnie said he always really liked this song.
The band only played it a few times live.

The Sign of the Southern Cross

Ronnie said he named this after a song he used to play when he played Trumpet called "The Southern Cross."

E5150 (instrumental)

They would use this to open concerts during the tour.
5, 1, and 50 in Roman numerals spell "VIL" so they put an E in front of it.
Ronnie said this one was written for the Heavy Metal movie along with "The Mob Rules."
This was the beginning of "The Mob Rules" where evil forces were trying to attack the city.
Dio said it was supposed to be a backing track and intro for The Mob Rules.
Dio said they used a Taurus pedal and different effects and it's the only thing on the album that's from a different recording session.

The Mob Rules

They had recorded this song for the "Heavy Metal" soundtrack but recorded it again for the album. They felt the one they'd recorded for the movie was a bit of rush job as they'd just come back from tour.
The title notably adds "the" to the album title.
It was used in the soundtrack for "Heavy Metal."
It was written before they had the album.
It's a song Dio continued to do.
This song was recorded at John Lennon's house.
They chose this song to do for the film. Dio said when they saw the original cut of the film it was like a porn movie and they had to edit it back to avoid getting a XXX rating.
The single didn't chart in the US but reached #46 in the UK.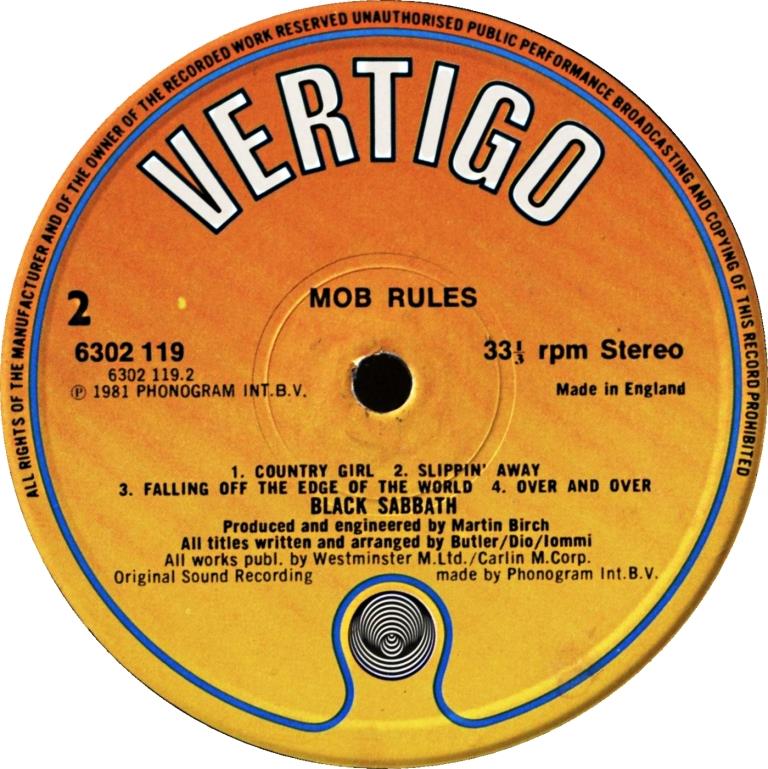 Side Two:

Country Girl

Dio mentioned that everyone liked this track except for Bill Ward.
Dio wrote it for Wendy at The Record Plant in New York.
Iommi said he brought up that he didn't think the lyrics really went with the sound of the song but they ended up keeping it.

Slipping Away

Dio says they wrote this one in England at Goldrock Road where they ended up mixing the album.
He says they wrote it very quickly, Geezer liked it, and Tony suggested making it a little funkier.

Falling Off the Edge of the World

The title was inspired by a song written by George Young and Harry Vanda with the same title. Dio said he always liked the title.

Over and Over
Thanks To Our Foundation Level Patrons:

The £3 "The Aromatic Feed" Tier
The $3.33 Half Way to Evil Tier

Spike the Rock Cat
Spike's Mom

$3 "Nobody's Perfect" Tier

Peter Gardow
Ian Desrosiers
Mark Roback
Duncan Leask
Stuart McCord
Flight of the Rat Bat Blue Light
Øyvind Fjeldbu –
Runar Simonsen –
JJ Stannard
Ruinous Inadequacies
John Miceli
Michael Boyette

The $1.71 "I Want My Own Tier" Tier
The 10 kr "" Tier
The £1 Tier
$1 Made Up Name Tier

The "Falling off the edge of the tomb" Leaky Mausoleum
Stephen Sommerville The Concerto 1999 Fanatic
Hank the Tank
Private Eyes
Ashen Lionel
Blackmore's Tights
Bustin' Out The Spreadsheet

Reception and Charts:

Made it to #12 in the UK album charts and #29 in the Billboard top 200.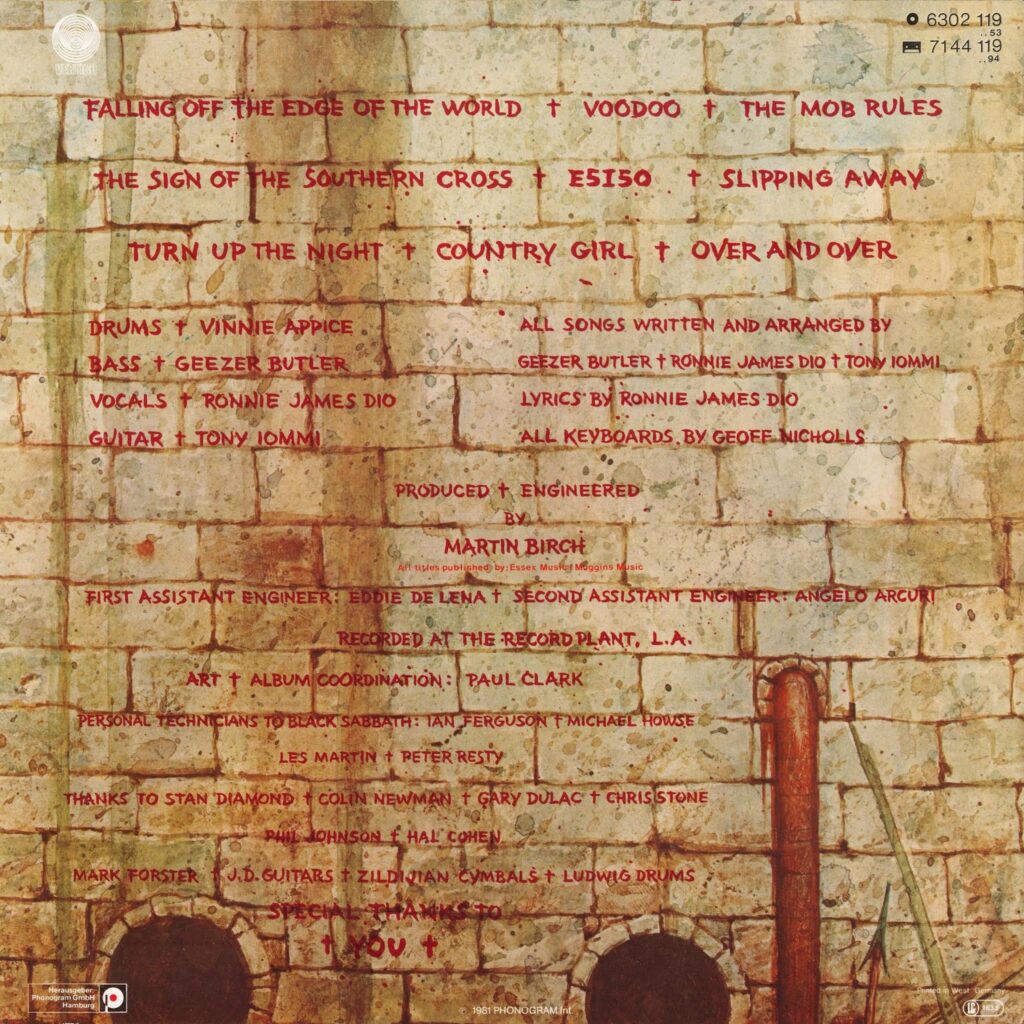 Reviews:

AllMusic – 4 / 5

After a steady decline in both inspiration, mental stability, and commercial appeal throughout the second half of the '70s, metal icons Black Sabbath were reborn with 1980's Heaven and Hell. The album would be their first with new vocalist Ronnie James Dio, whose passionate, controlled wail broke new ground for the band and helped drive a comeback. 1981's Mob Rules was a quick follow-up to Heaven and Hell, continuing the momentum of that record's energy as well as its shift away from dark metal to more commercial hard rock. Tony Iommi's signature guitar playing takes on new forms throughout the album, with Zeppelin-esque riffing on "Slipping Away," slithering bluesy rock playing on "Voodoo," and a strikingly different approach to soloing, shifting from the laser-focused slow burn of early Sabbath albums to a more frenetic, technically showy style on some tracks. Speedy album opener "Turn Up the Night" is one of the more spirited and pop-friendly moments of any Sabbath record, with a hooky and melodic chorus and Iommi running through fast-paced leads and trills that were no doubt taking notes from Eddie Van Halen, who was perhaps the most celebrated guitarist in the world in 1981. Mob Rules delved more into experimentation with keyboards and synthesizers, with auxiliary player Geoff Nicholls adding cinematic synth bedding to the epic churn of "The Sign of the Southern Cross" and spacy atmosphere to "Falling Off the Edge of the World," among other synth contributions. New drummer Vinny Appice replaced original Sabbath drummer Bill Ward, pushing the sound even further from the band's original sludgy approach. These changes, along with Dio's fantasy-based lyrics and a red-lined mix by producer Martin Birch put Mob Rules closer in line with the emerging New Wave of British Heavy Metal than the druggy devil-worshiping doom metal Black Sabbath first built their name on. While it was a solid album, Mob Rules might have followed the template established on Heaven and Hell a little too closely. The pacing and flow of the record was almost identical to its predecessor, from the chuggy opener of "Turn Up the Night" mirroring Heaven and Hell's "Neon Nights" straight through to final track "Over and Over" feeling like a continuation of "Lonely Is the Word," the searching, midtempo finale of the previous album. It didn't sell quite as well as Heaven and Hell, and Dio and Appice left the band soon afterward, (though Dio's relationship with Sabbath would be complex and sprawling) leaving Black Sabbath to reconfigure throughout the '80s with mixed results. Mob Rules and Heaven and Hell work well as each other's companion pieces, making the first round of Dio-fronted Sabbath material a bright spot surrounded by relatively grim efforts on either side.

Classic Rock – 4 /5
Martin Popoff 10/10

In "The Collector's Guide to Heavy Metal: Volume 2, The Eighties"

Rolling Stone – 1/5

AFTER 1980'S HARDER and faster Heaven and Hell, there was reason to believe that singer Ronnie James Dio might pull Black Sabbath off the heavy-metal scrapheap. Didn't happen. Mob Rules finds the band as dull-witted and flatulent as ever.
It isn't easy to figure out exactly who deserves the blame for this sludgefest. Dio's lyrics are insipid and clichéd, but since the vocals are usually buried in the mix, that's only a minor annoyance. His bass rumbling like an overloaded truck, Geezer Butler is busy, busy, busy. But not quite as busy as guitarist Tony Iommi, who uses the album as an opportunity to demonstrate how swiftly he can play. (In case you're wondering, he's quicker than Mark Farner, not as quick as Johnny Ramone.) As for the new kid on the block, drummer Vinnie Appice, his thumping is so leaden and uninspired you have to listen twice to notice him.
The reason that Mob Rules is terrible is teamwork — not just thinking up lame riffs and dumb lyrics but also performing them as poorly as possible.
For Further Information:
Listener Mail/Comments

Comments about the show? Things you'd like us to cover? We'd love to hear from you. Send us an email at info@deeppurplepodcast.com or @ us on Twitter, Facebook, or Instagram.