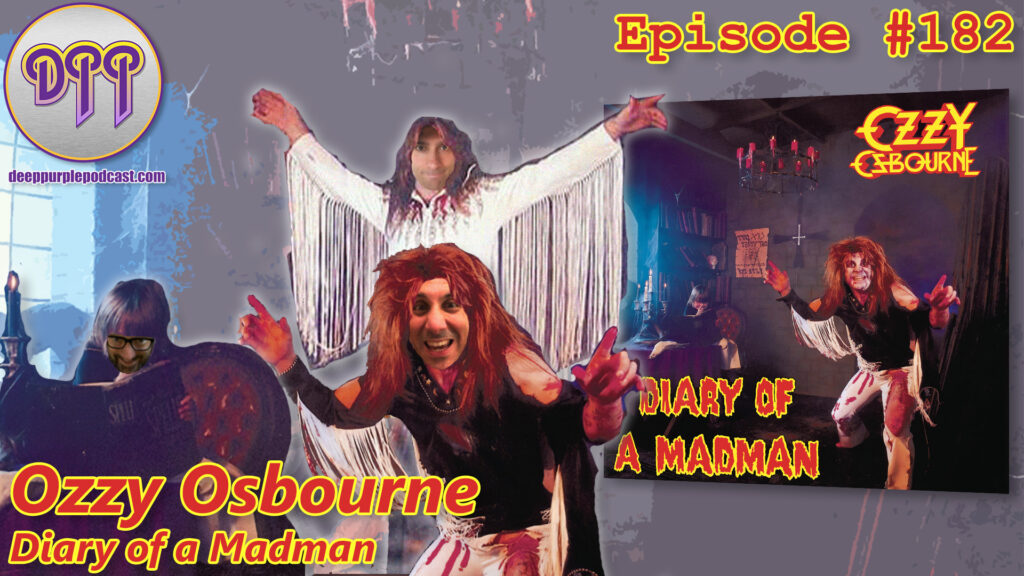 Subscribe at Apple Podcasts, Stitcher, Google Podcasts, Overcast, Pocket Casts, Anchor.fm, Breaker, PodBean, RadioPublic, Amazon Music, or search in your favorite podcatcher!

How To Support Our Show:

Brendan Ashbrook – Logo Designer

New Patron/Patron Upgrades:

Ruinous Inadequacies joining at the $3 a month tier!
Thanks to Our Executive Level Patrons:

The $25 "Uncommon Man" Tier
The £10 Tier
The Turn it up to $11 Tier

Clay Wombacher
Frank Theilgaard-Mortensen
Alan "Ain't Too Proud To" Begg
Mikkel Steen

$10 "Some One Came" Tier

Ryan M
Jeff Breis
Victor Campos
"Better Call" Saul Evans
Kev Roberts & his wonderful children: Matthew, Gareth, and Sarah
Deep Dive Podcast Network:

A Note About Ozzy and Diary's Connection to Deep Purple:

Bob Daisley's time and songwriting in Rainbow, with Gary Moore, and with Jon Lord in The Hoochie Coochie Men
Don Airey in Ozzy's touring band, though absent from this album
Living Loud with Steve Morse, Don Airey, Lee Kerslake, Bob Daisley, and Jimmy Barnes
Most importantly – the doors this opened for us in our journey and fandom of hard rock and this style of music
Core Band:

Technical: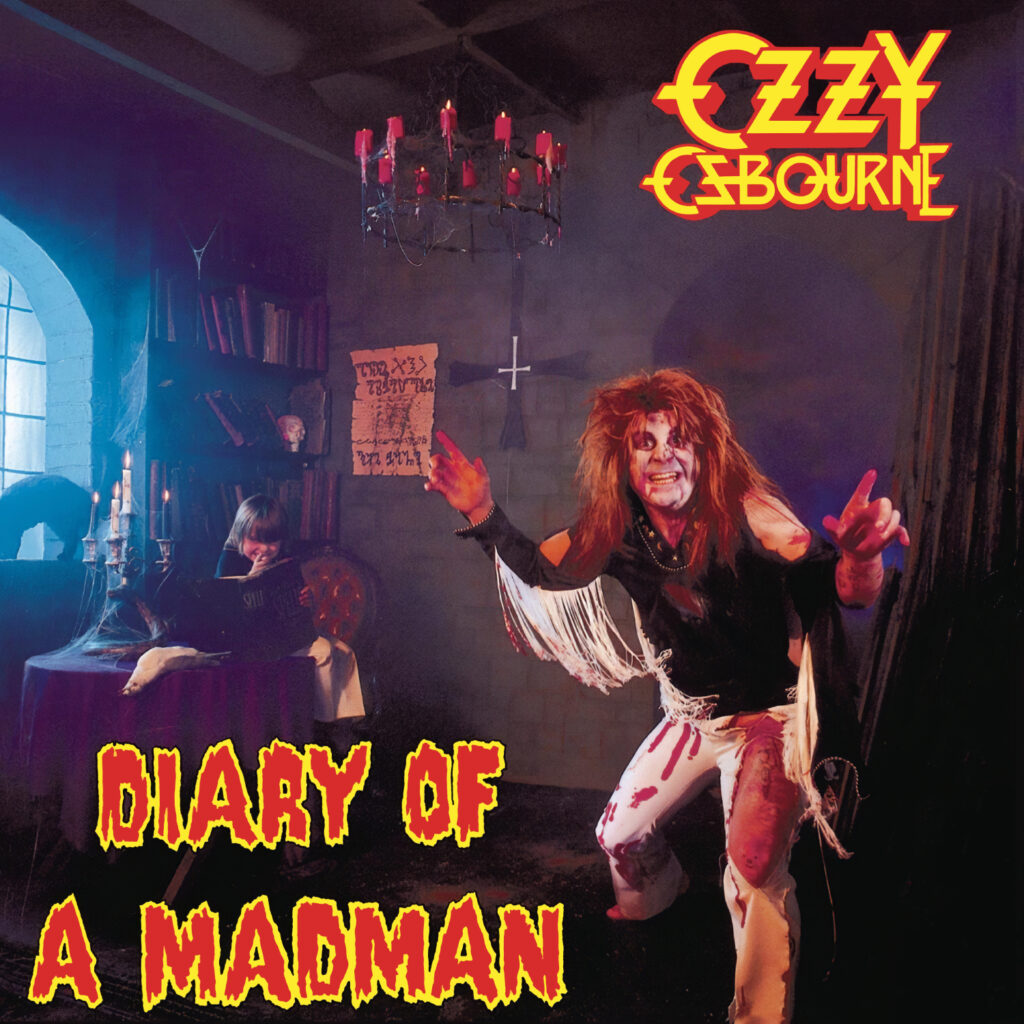 Album Art & Booklet Review

Other [Make Up] – Cheryl Hubbard
Photography By – Fin Costello

Legendary rock photographer over the years.

Photography By – Tony Harrison (6)

Mostly Ozzy credits on Discogs

Set Designer [Set] – Denise Richardson

Also credited on Bark at the Moon

Set Designer [Set] – Ernie Spruces
Design – Steve "Skull" Joule*

Art Director at Kerrang!
Did many Ozzy designs during this period
Also famously did the Born Again album cover
In interview with heavymusicartwork.com: "But I guess the one I'm proudest of and really is the full package is Ozzy's, 1981, 'Diary Of A Madman', the great set , brilliantly built by photographer Fin Costello's work pixies, the ridiculous props, magic alphabets, the hand lettering, Ozzy being as drunk as a skunk at the shoot, Ozzy's son Louis biting the head off the stuffed dove on the cover, just like daddy and of course becoming 'THE HAND OF SATAN!!! Haaaaaaaargh!!! Yeah, I love that cover and it definitely sums up the early '80's."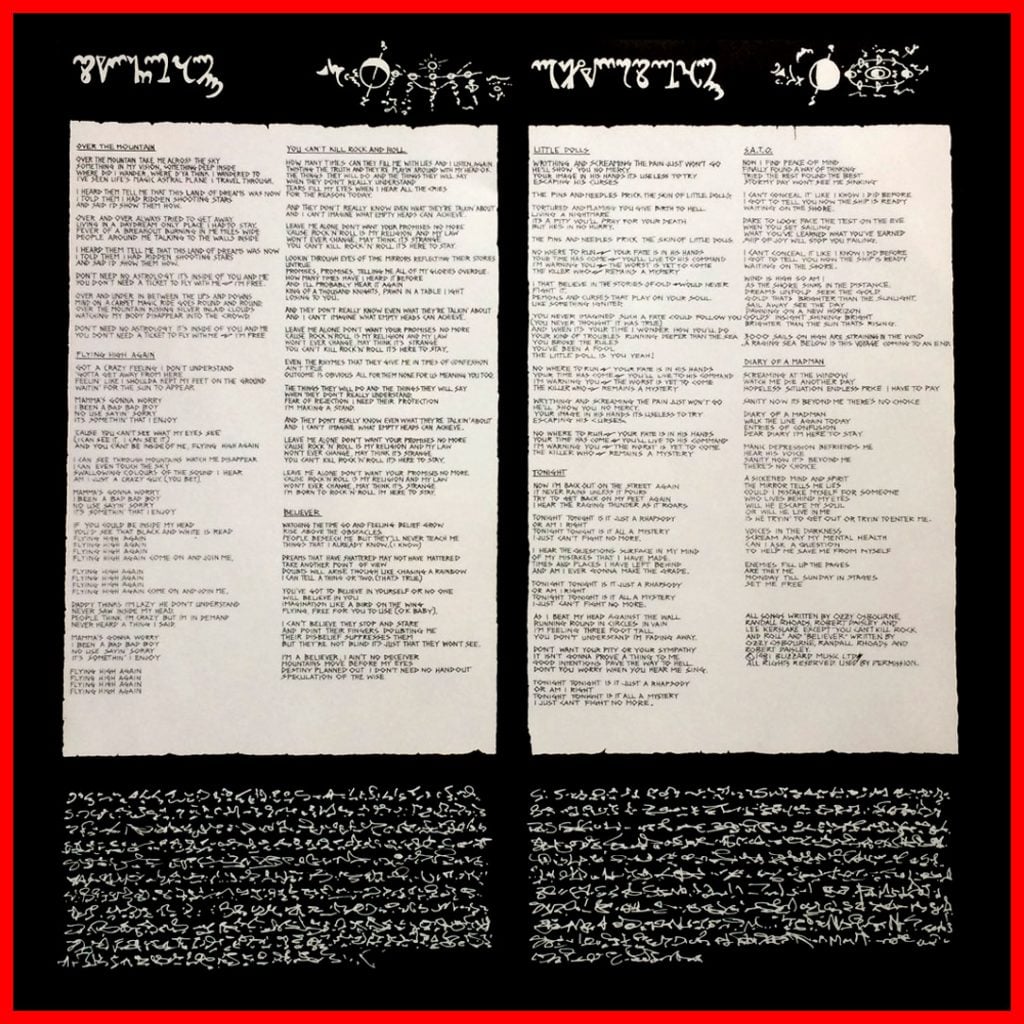 Thanks to Our Core Level Patrons:

The $7.77 KeepItWarmRat Tier
The $6.99 "New Nice Price" Tier
The Episode $6.66 Tier

Steve Coldwell
Arthur Smith
Anton Glaving
Richard Fusey

The $6.65 "Almost Evil" Tier
$5.99 The "Nice Price" Tier

Robert Smith
Peter from Illinois
Michael Bagford
Karl Hellberg

$5 "Money Lender" Tier

John Convery
German Heindl
Adrian Hernandez
Jesper Almén
Oleksiy The Perfect Stranger Slyepukhov
James North
Mark Hodgetts
Will Porter
Zwopper The Electric Alchemist
Tim "Southern Cross" Johnson
Percival Frequency
Scott Zerns
Album Tracks: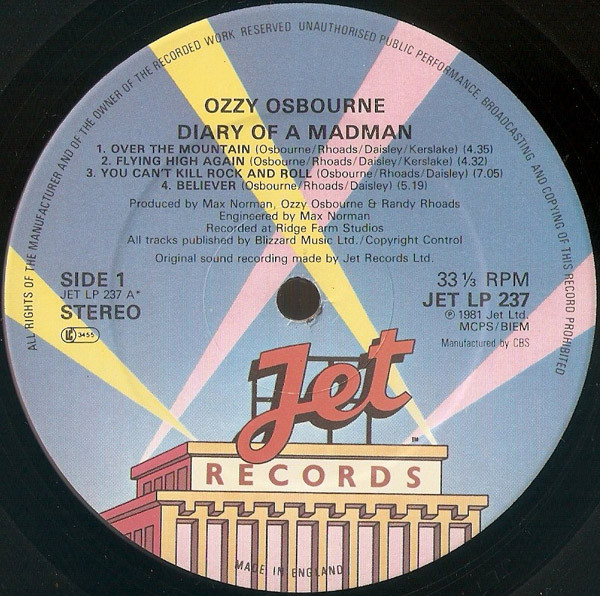 Side One:

Over the Mountain (Daisley, Osbourne, Kerslake, Rhoads)

Bob Daisley: Title and lyrics were mine. To be fair, Ozzy's melodies and scat singing before lyrics were written sometimes influenced what I wrote, the lyrics were written to fit his phrasing on most songs.
Daisley said Rhoads wrote the riff using eight notes but Daisley suggested going with sixteenth notes.
Daisley stated that over the years Frank Banali had been credited as coming up with the opening drums but he said there is no basis to these rumors.
Lyrics were written right before Ozzy recorded the vocal.

Flying High Again (Daisley, Osbourne, Kerslake, Rhoads)

Bob Daisley: The title and lyrics were mine, Ozzy may have put in a word or two again. In my book, there's a whole story about how this song came about from an experience I had as a young lad playing in bands in Australia. The title actually came from a very 'straight' bloke who asked me a question about drugs.
Started off as a song called "Mean Machine" based on the vocals Lee sang during the writing process.

You Can't Kill Rock and Roll (Daisley, Osbourne, Rhoads)

Bob Daisley: Ozzy's title, and a few words were his but the meat and potatoes of the lyrics were mine. I wrote it about being screwed by record companies and being lied to, a premonition me thinks…
In his book "For Facts Sake," Bob Daisley writes: "One of [the new songs] had a Pink Floyd vibe so I named it "Floydian," which later became "You Can't Kill Rock 'n' Roll."

Believer (Daisley, Osbourne, Rhoads)

Bob Daisley: My title and lyrics. I was reading about the power of belief at the time and wanted to convey a positive message. Maybe a word or two from Ozzy and some inspiration from his phrasing but all my idea.
Randy and Daisley would joke that this bass riff sounded like "Purple haze"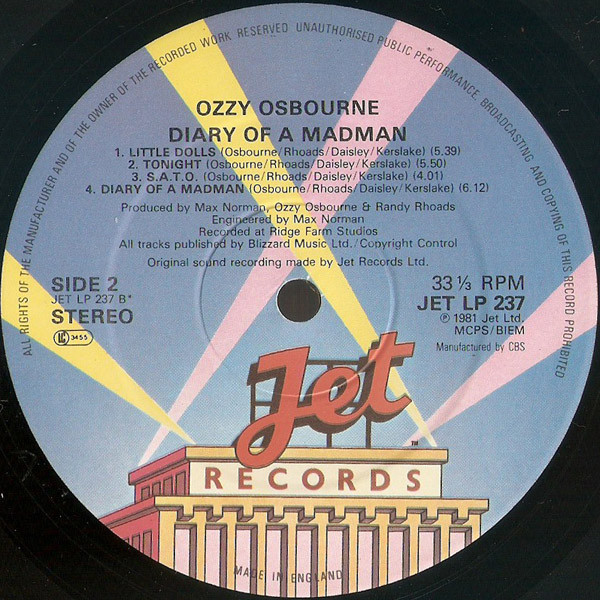 Side Two:

Little Dolls (Daisley, Osbourne, Kerslake, Rhoads)

Bob Daisley: My title and lyrics. Again, maybe a word or two here and there from Ozzy but totally my idea. A song about Voodoo without mentioning the word. Fuck knows how I came up with that one…
Daisley says it was based on a riff he'd written in Windowmaker for a song called "Mean What You Say" while the middle eight was taken from a song he'd layed in Mecca's single, "Black Sally" in 1969.

Tonight (Daisley, Osbourne, Kerslake, Rhoads)

Bob Daisley: Ozzy had originally sung 'just a kiss before we say goodnight' to open the song but I thought that was a bit soppy so changed the idea to someone down and out on the street. I think Lee came up with the 'tonight' where it ended up in the chorus but I wrote almost all the lyrics.
Daisley says this song had the working title "Just a Kiss."

S.A.T.O. (Daisley, Osbourne, Kerslake, Rhoads)

Allegedly stands for Sharon Arden Thelma Osbourne
Bob Daisley: Not my title, Ozzy and Sharon changed it from 'Strange Voyage' which had been mine, to 'S.A.T.O.' after Lee and I were ousted. I wrote the lyrics about how life can be a strange voyage and was inspired by a Buddhist text entitled 'A Ship to Cross the Sea of Suffering'. The S.A.T.O part is explained in my book.
The working title was "Headbanger."
Daisley says this is the only song on the album not tuned down a semitone.
Lyrics were inspired by Buddhism
Ozzy and Sharon decided to change the title from "Strange Voyage" to this because they were both having an affair.  It stood for S.A. (Sharon Adrian, her boyfriend) T. O. (Thelma Ozzy.)

Diary of a Madman (Daisley, Osbourne, Kerslake, Rhoads)

Bob Daisley: My title and lyrics. The title came from a movie of the same name which I'd seen starring Vincent price. When I told Ozzy about my idea he loved it and that became the title of the next album before we'd even started writing it. I wrote the lyrics about my own personal experience which I go into detail about in the book. When Randy, Lee and I first worked up the music for the song without Ozzy, he came in the next day, heard what we had and said, "Who the fuck do you think I am, Frank Zappa?"
Daisley says that at the time he wasn't aware that some of the chord progressions weren't entirely original.  He said it borrowed from Randy practicing "Etude Number 6" by classical guitarist Leo Brouwer.
Daisley says Ozzy needed a few run throughs with Lee explaining to him how the vocals fit in to get it before he was comfortable singing it.
Arranged By [Strings] – Louis Clark
Conductor and arranger that worked with ELO
Continued to work with Ozzy on "Bark at the Moon."
Daisley said Clark was going for a Carl Orff type sound to give it the "Carmina Burana" treatment with the orchestra and choir.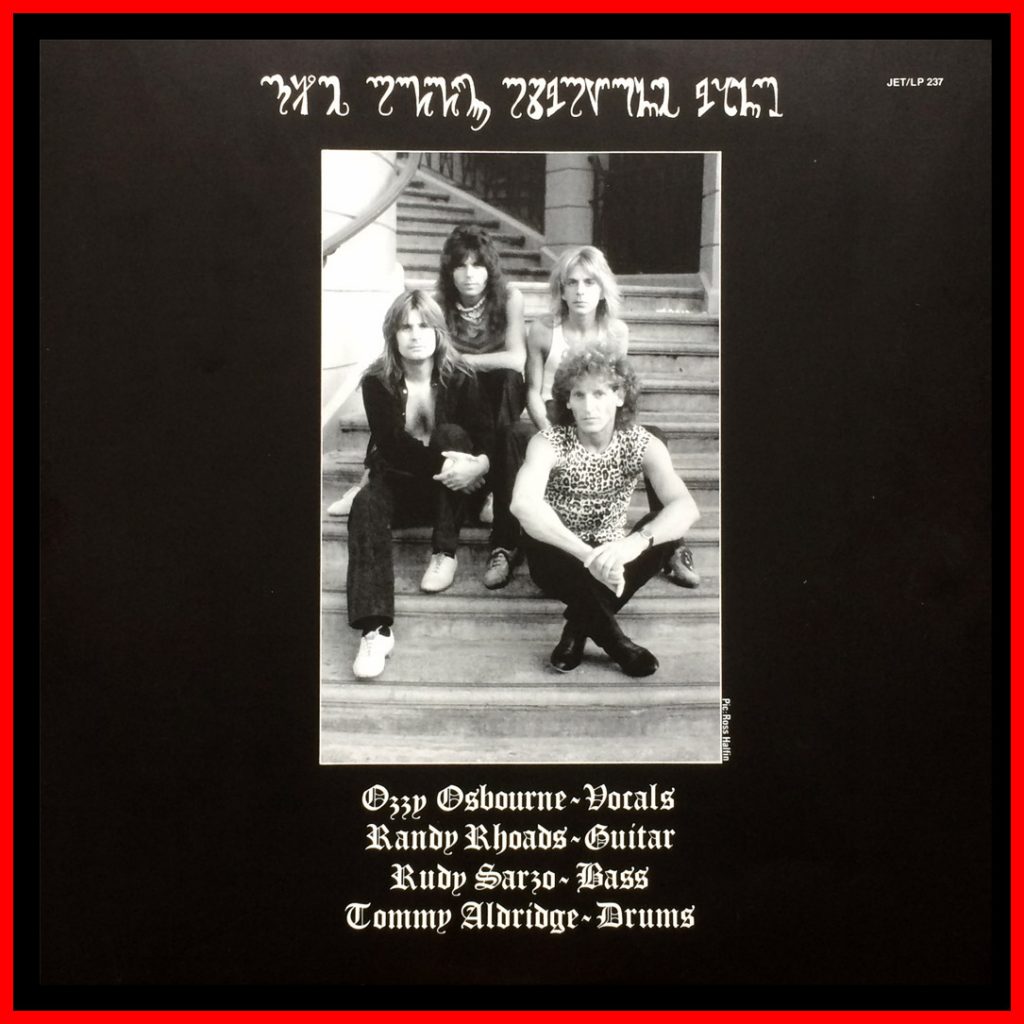 Thanks To Our Foundation Level Patrons:

The $3.33 Half Way to Evil Tier

Raff Kaff
Spike the Rock Cat
Spike's Mom

$3 "Nobody's Perfect" Tier

Peter Gardow
Ian Desrosiers
Mark Roback
Duncan Leask
Stuart McCord
Flight of the Rat Bat Blue Light
Øyvind Fjeldbu –
Runar Simonsen –
JJ Stannard

Ruinous Inadequacies – NEW PATRON ALERT!
$1 Made Up Name Tier

The "Laying Low Again" Leaky Mausoleum
Stephen Sommerville The Concerto 1999 Fanatic
Hank the Tank
Private Eyes
Ashen Lionel
Blackmore's Tights
John Miceli
Bustin' Out The Spreadsheet

Reception and Charts:

Daisley said the whole album is tuned down semitone to give it a heavier feel and to make it easier for Ozzy to sing.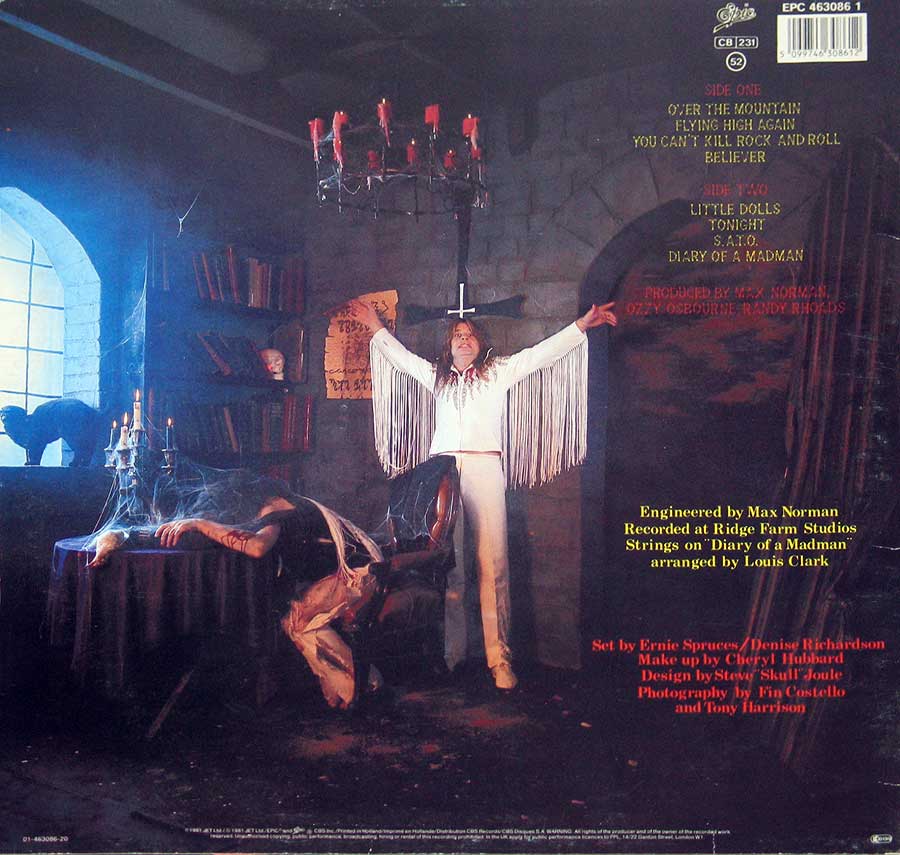 For Further Information:
Listener Mail/Comments

Comments about the show? Things you'd like us to cover? We'd love to hear from you. Send us an email at info@deeppurplepodcast.com or @ us on Twitter, Facebook, or Instagram.