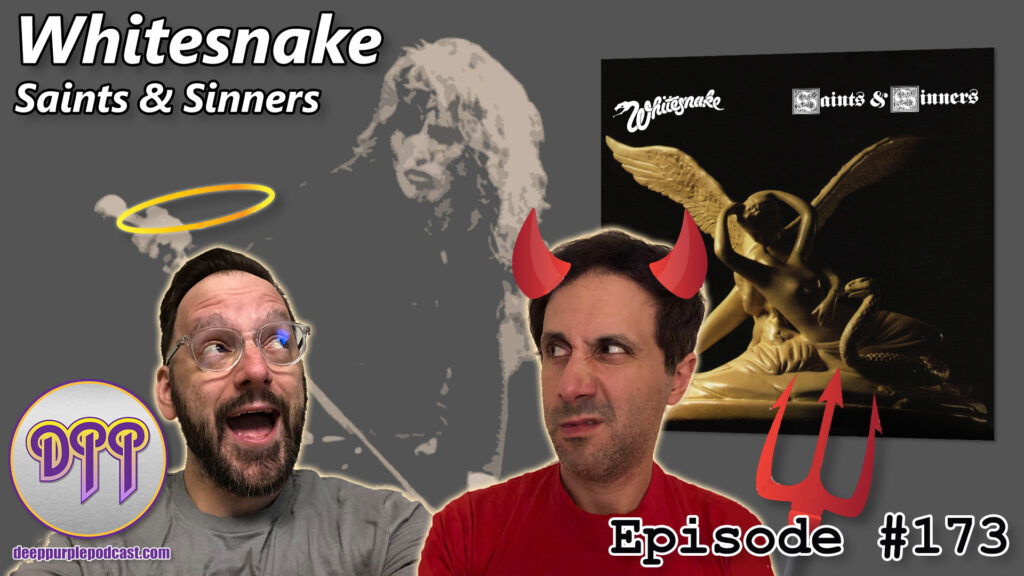 Subscribe at Apple Podcasts, Stitcher, Google Podcasts, Overcast, Pocket Casts, Anchor.fm, Breaker, PodBean, RadioPublic, Amazon Music, or search in your favorite podcatcher!

How To Support Our Show:

Brendan Ashbrook – Logo Designer

Thanks to Our Executive Level Patrons:

The $25 "Uncommon Man" Tier
$15 "What's Goin' On Here" Tier
The £10 Tier
The Turn it up to $11 Tier

Clay Wombacher
Frank Theilgaard-Mortensen
Alan "Ain't Too Proud To" Begg
Mikkel Steen

$10 "Some One Came" Tier

Ryan M
Jeff Breis
Victor Campos
"Better Call" Saul Evans
Kev Roberts & his wonderful children: Matthew, Gareth, and Sarah
A Word From Our Sponsor:
Whitesnake Live in Illinois September 1, 2022!

Live at Allstate Arena in Rosemont, IL
With Scorpions
Hall of Fame Presentation:
Deep Dive Podcast Network:

Lead up to the Album:

In December of 1981 Micky Moody quit Whitesnake.
Moody: "By '81 people were becoming tired. We had too many late nights, too much partying. We weren't making nowhere near the kind of money we should have been making. Whitesnake always seemed to be in debt, and I thought "what is this?, we're playing in some of the biggest places and we're still being told we're in debt, where is all the money going?". We hadn't got much money out of it and to be told you're 200,000 pounds in debt, when you just had six golden albums. It wasn't just me, cause everybody was getting tired, pissed off and losing their sense of identity. It was over by then, we couldn't get any further. It's difficult for a band to go more than three or four years without getting tired of each other and losing ideas. Nothing lasts forever. Everybody wanted to do something different after a few years, a solo album or write with someone else."
Soon after Moody quit David Coverdale called a meeting put the band on hold. He used this opportunity to break ties with long time Deep Purple and Whitesnake manager John Coletta. From that point on Coverdale took over the business end of the band.
In 1982 Marsden quit the band as well. In Marsden's book he states that David Coverdale called a meeting and dismissed the remaining members of the band with the exception of Jon Lord.
In August of 1982 David Coverdale tried to get Micky Moody to return to the band to complete the album. Along with new guitarist Mel Galley they finished up backing tracks. Birch was there for final production and mixing.
Marsden states in his autobiography: "How could it all go so wrong? The answer lay not so much in what we were doing as what we weren't. We were no longer working with the seventh member of the band, its heart – one Martin Birch. He was the glue that held Whitesnake together. With hindsigh, it's bloody easy to see. Martin was not there from the start of the album sessions and so, MArtin Birch, it was all your fault!"
Marsden goes on to say that Birch was producing Rainbow and also Iron Maiden which was taking up much more of his time and likely because Iron Maiden was paying him more than Whitesnake's label was willing to. Marsden: ". . . when we were informed that Martin would not be producing us any more, not one of us asked any questions, and shame on us all for that. We should have asked why, and we should have demanded answers."
They got together at Nomis Studios in west London to work on the album with Guy Bidmead who's worked with Marsden on his solo album.
Marsden says he and David had written new material but that Moody hadn's seemed interested in writing any new songs.
Marsden describes this album as the beginning of the end.
They went on to record at a studio called Rock City which Marsden says none of them liked. He described the studio as being technically fine but lacking the high-end perks of previous sessions and that none of the band felt at home.
Shortly after they left Rock City and moved to Clearwell Castle in Gloucestershire. Marsden said that after that move the vibe was back.
The album was mixed at Britannia Row where Marsden did some guitar overdubs.
Marsden describes two sessions where Jon and Ian were both no shows. He then suggested they end the band and David told him it was already int eh worlds.
There was an attempt to fire their label, Seabreeze, to which Coverdale didn'ts how up.
Marsden says that Coletta gathered with Lord, Paice, Murray, and Marsden tot ell thema lll he was out of the band.
Marsden says after they all left he pulled Marsden aside and told him he'd been offered to sign him as a solo artist but that he had to sign the contract that day.
He said the band ended without any sort of fight or anything, it just sort of fizzled out.
After this the album was finished without all of the ordiginal contributors to the songwriting or recording.
In Moody's book he mentions taht the manager of Clearwell Castle, Bernard Yeates, told them that he'd booked a wedding reception during the sessions and that the bride's parents had been warned taht there would be a rock band hanging out at the bar and the common areas.
Moody tells a story of Billy Connolly and his then girlfriend Pamela Stephenson being wedding guests and they ended up partying with them at the wedding indulging in "a combination of toot and booze." Connelly picked up Moody's banjo and began playing it.
Core Band:

Includes printed inner sleeve (with a thumb cut) and merchandise insert.
The backing trax were recorded at Rock City, Shepperton; The Truck Mobile at Clearwell Castle, Gloucestershire and Brittania Row, London.
The vocal trax were recorded at Battery Studios, London.
Mixed at Battery Studios Sept/Oct 1982.

Runouts:
'ƱtopiA' / 'ƱTOPIA' / 'Ʊtopia', 'THE GAY BLADE STRIKES AGAIN…' and 'WE WISH YOU WELL…' are etched; remainder is stamped.
'Ʊ' in runouts represents the Utopia Studios lyre symbol.
Variant 8 – the 'U' of Side A's 30354 A-6U̶-1-1-1′ is crossed out with 'x'

Technical: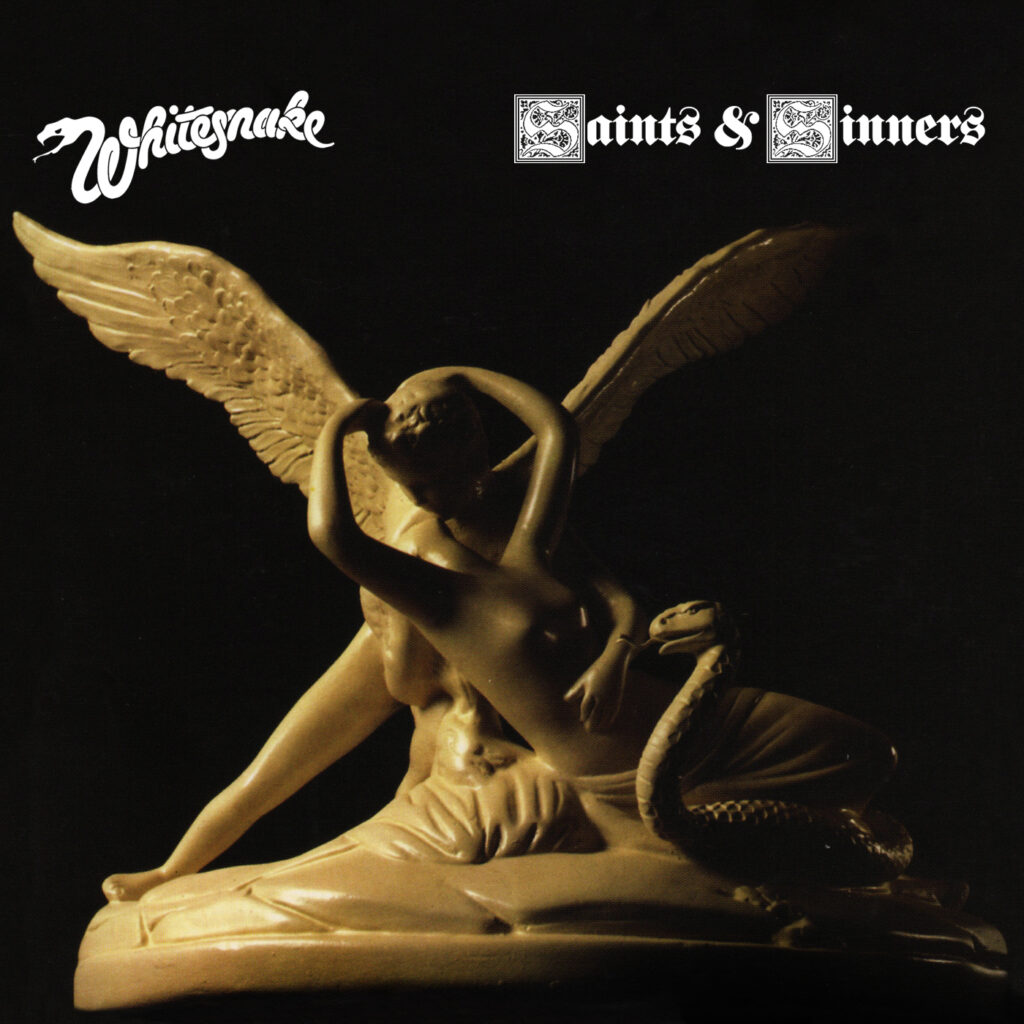 Album Art & Booklet Review

Design [Cover] – The Concert Publishing Company
Photography By [Back Cover] – Virginia Turbett
The back cover features a picture of David Coverdale alone and full band credits were left off the album amidst the turmoil the band's lineup was going through at the time.
Critical reception of the album cover was not good.  Simon Robinson describe it as, "a kitschy sculpture of the kind some folk insist on decorating their mantlepieces with."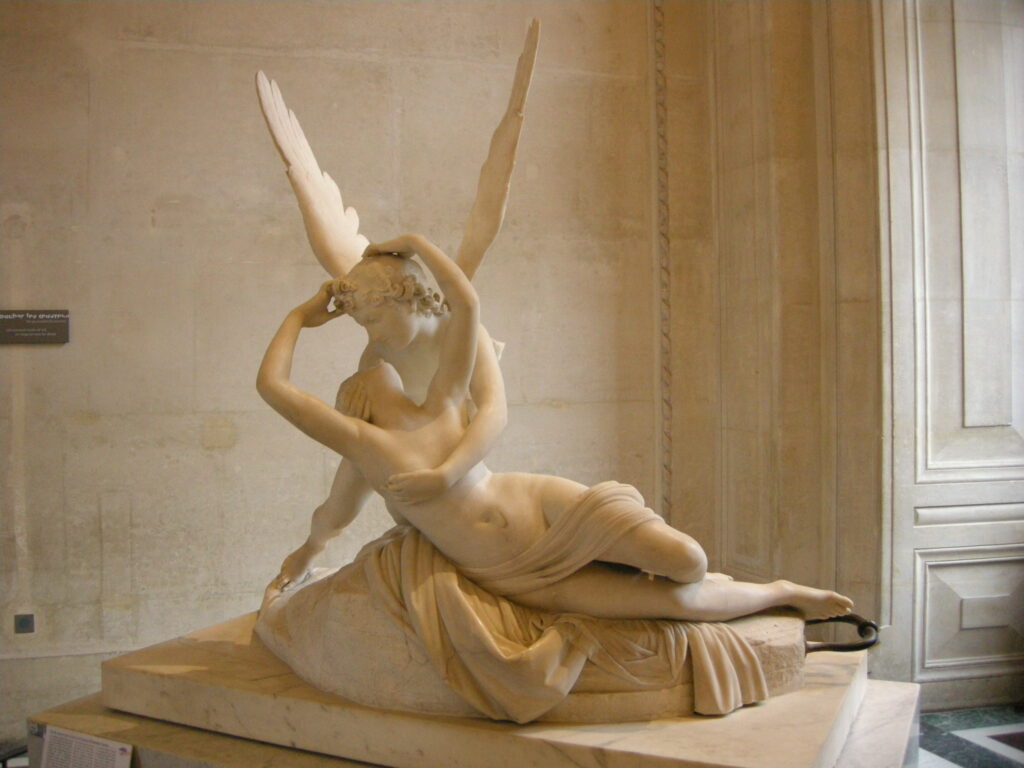 Sculpture seems to be based on the sculpture Psyche Revived by Cupid's Kiss by Antonio Canova who also had a painting.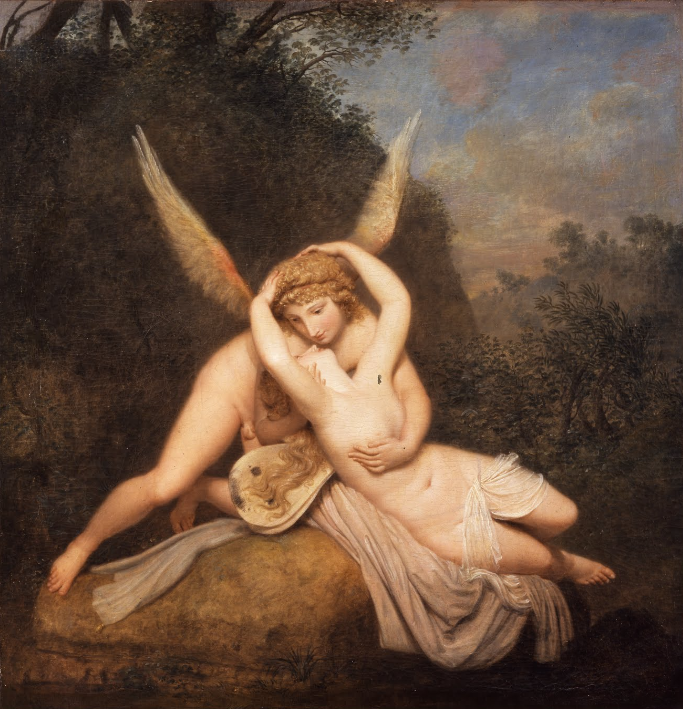 This sculpture was inspired by a Roman painting found in Herculaneum during Canova's visit to Naples in 1787.
Canova also seems to have an oil painting based on this as well.
Thanks to Our Core Level Patrons:

The $7.77 KeepItWarmRat Tier
The Episode $6.66 Tier

Steve Coldwell
Arthur Smith
Anton Glaving

The $6.65 "Almost Evil" Tier
$5.99 The "Nice Price" Tier

Fielding Fowler
Robert Smith
Peter from Illinois
Michael Bagford
Karl Hellberg

$5 "Money Lender" Tier

John Convery
German Heindl
Adrian Hernandez
Jesper Almén
Oleksiy The Perfect Stranger Slyepukhov
James North
Mark Hodgetts
Will Porter
Zwopper The Electric Alchemist
Tim "Southern Cross" Johnson
Percival Frequency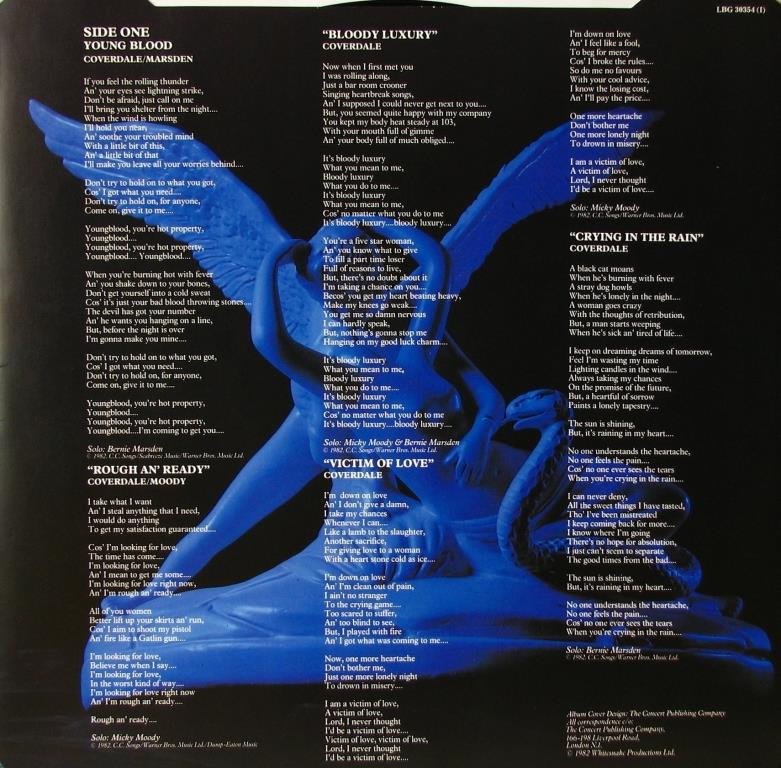 Album Tracks:

Side One:

Young Blood (Coverdale, Marsden)
Rough An' Ready (Coverdale, Moody)
Bloody Luxury (Coverdale, Marsden, Moody)
Victim of Love (Coverdale, Moody)

Solo: Moody
Moody put this solo down after being rushed back into the studio along with Mel Galley to do backing vocals.

Crying In The Rain (Coverdale, Marsden)

Solo: Marsden
The song was written about the breakup of Coverdale's first marriage, written in Portugal.
Marsden describes this as a great new song that was "drenched int he irresistible humour that was Whitesnake at the time."
They had seen a TV news report interviewing about a local man about the mass extermination of farm animals int he area.  The news reporter seemed very serious about the death of the animals and the local man said "Plenty more about."  They said the band cracked up at the man's response.
He said that at the point of the song where David is supposed to sing "black cat moans when he's buringn with a fever," David instead did an imitation of the man and said, "Plenty more about!"
Marsden said they were laughing too heard and the session was almost ruined.  They had to take a break for an hour and ban Coverdale from the studio until they finished the track.
Marsden says there's a tape of this take and he still thinks it's hilarious.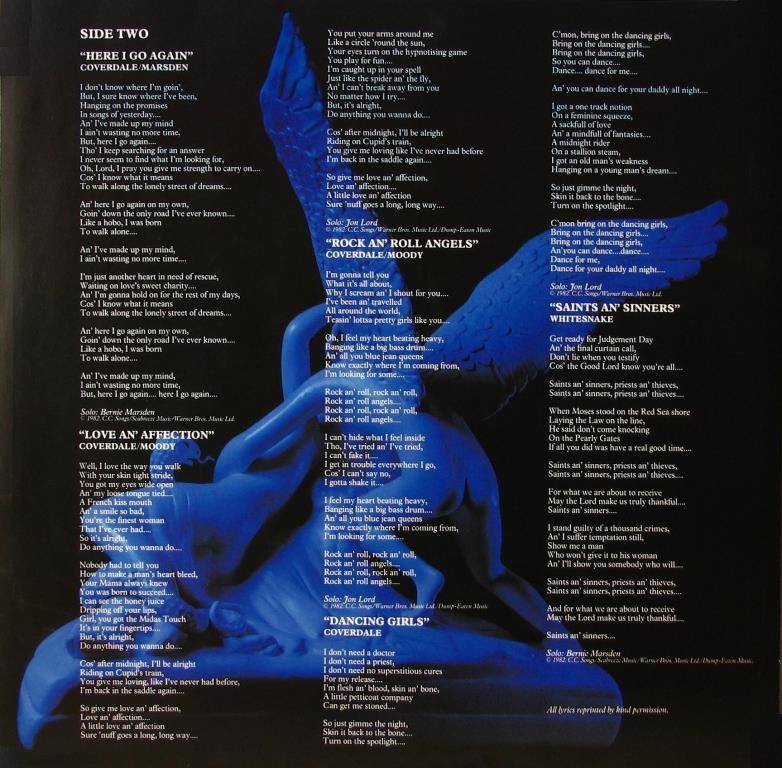 Side Two:

Here I Go Again (Coverdale, Marsden)

Solo: Marsden
Marsden said he recorded a demo of this and played it for Jon Lord who asked him to play the opening chords again.  When he heard them he said to Bernie, "You're a clever little sod, aren't you?"
Marsden said Lord loved playing the opening on the Hammond.
He said Coverdale went into "lyrical overdrive" after hearing the demo.  He said Coverdale wrote new lyrics to it.
Neil, Jon, Ian, and Bernie are all on backing vocals.'
Marsden said that the guitar solo has a nod to John Lennon's "Woman" in the arepeggio.
Marsden said he thought they had a big song on their hands with this one as did David but, clearly, neither of them realized how big it would become.
Coverdale says he also wrote this in Portugal about the breakup of his first marriage.

Love An' Affection (Coverdale, Moody
Rock An' Roll Angels (Coverdale, Moody)

Solo: Lord
Marsden said for reasons that he couldn't explain that Paice struggled with this song and had to redo it several times.  He said it was very unlike Ian and that Ian was very short on confidence at this point, which he also says was uncharacteristic.
After about ten takes Ian sent the band to the pub so he could record it alone with Guy.

Dancing Girls (Coverdale)
Saints An' Sinners (Whitesnake)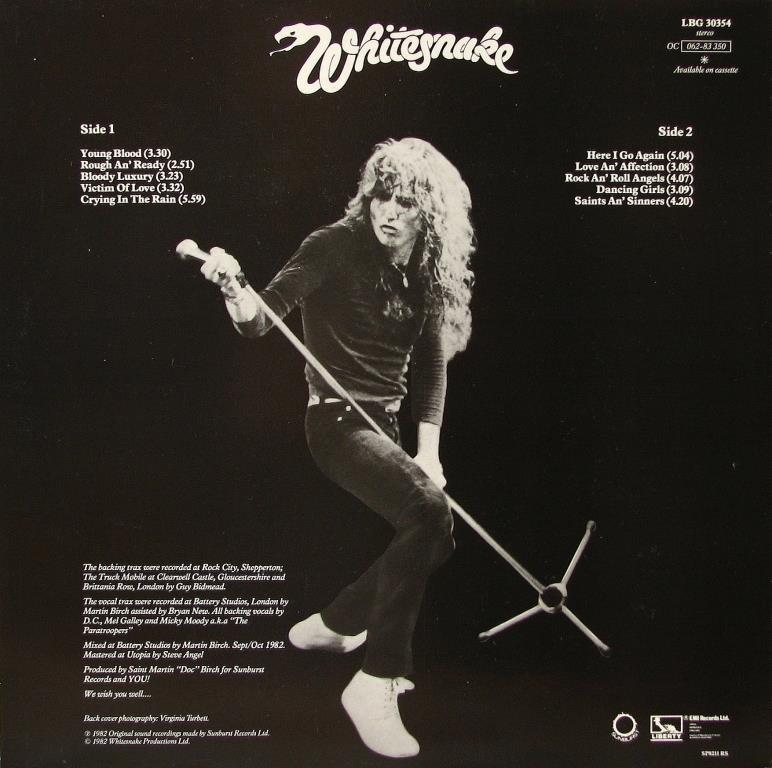 Thanks To Our Foundation Level Patrons:

The $3.33 Half Way to Evil Tier
$3 "Nobody's Perfect" Tier

Peter Gardow
Ian Desrosiers
Mark Roback
Duncan Leask
Stuart McCord
Flight of the Rat Bat Blue Light
Øyvind Fjeldbu –
Runar Simonsen –
JJ Stannard

$1 Made Up Name Tier

The "Man Who's Oozing with the Rock and Roll Angels" Leaky Mausoleum
Stephen Sommerville The Concerto 1999 Fanatic
Spike, The Rock Cat
Hank the Tank
Private Eyes
Ashen Lionel
Spike's Mom
Blackmore's Tights
John Miceli
Bustin' Out The Spreadsheet

Reception and Charts:

The album peaked at number 9 on the UK Album Charts.
It's said that Coverdale released this album "as is" based on time constraints and contractual obligations.
Micky Moody described the album's songs: "the songs went form the sublime ('Here I Go Again' and 'Crying in the Rain') tot he ridiculous ('Bloody Luxury' and 'Dancing Girls'), with a bunch of well-performed albeit unremarkable – rockers hovering about in the middle.
They embarked on a tour after recording but it had to be canceled due to Ian Paice coming down with mumps.
Coverdale: "Well, there are some good songs. I mean there are always good songs on my stuff. I'm a song guy. But it was definitely a jigsaw puzzle of a record."
Coverdale said he was really torn and didn't know what to do to get out of his management deal. He said when his daughter was 4 or 5 that she had a really tough time with some illnesses and when he was really worried about her and praying for her recovery he said it gave him "the balls to turn around and say, 'This means nothing to me; I want out.' That was how he reformed the band and got out of his bad record deal.
Lord admitted that he didn't think Ian Paice was very happy in the band.
Reviews:
Simon Robinson: "Today the album remains one of their weakest, although it does hint at the transition from the traditional Whitesnake style toward the harder musical approach which was slowly emerging, especially on tracks like 'Victim Of Love.' Overall the sound is poor and not particularly well mixed, with the keyboards lost and the bass relegated to some far distant place.
Jon Lord: "It's not my job to sit here and make excuses, but . . .. the backing tracks were made under quite difficult circumstances in terms of the band itself and the producer . . . we went through about 19 different studios. It had to be released though, otherwise we would have been sued from here to Christmas."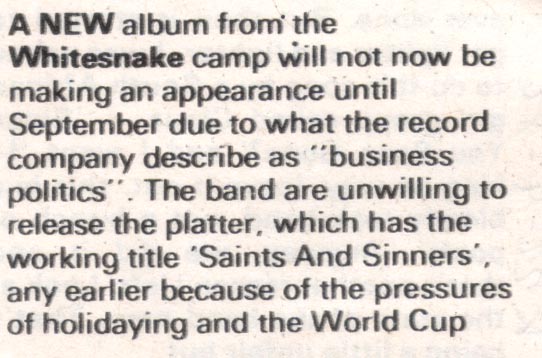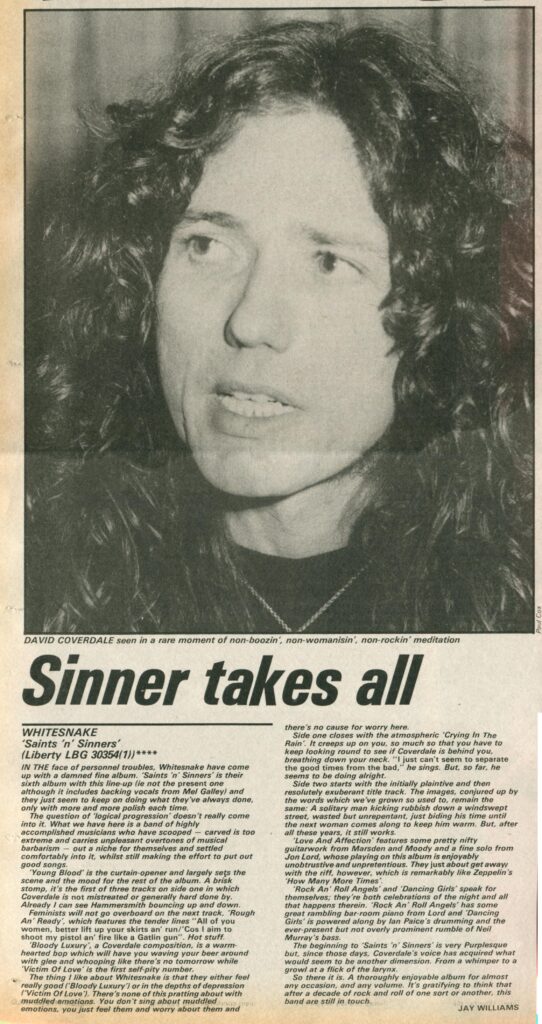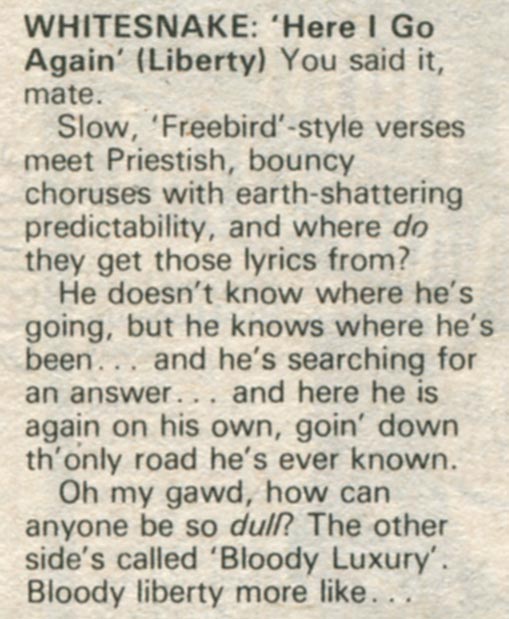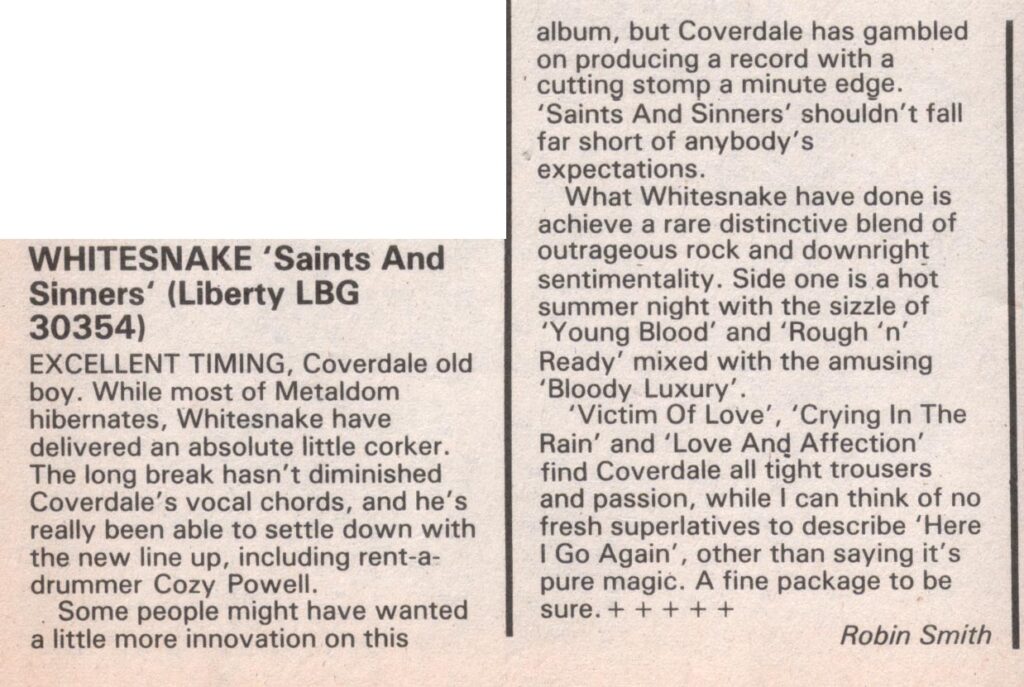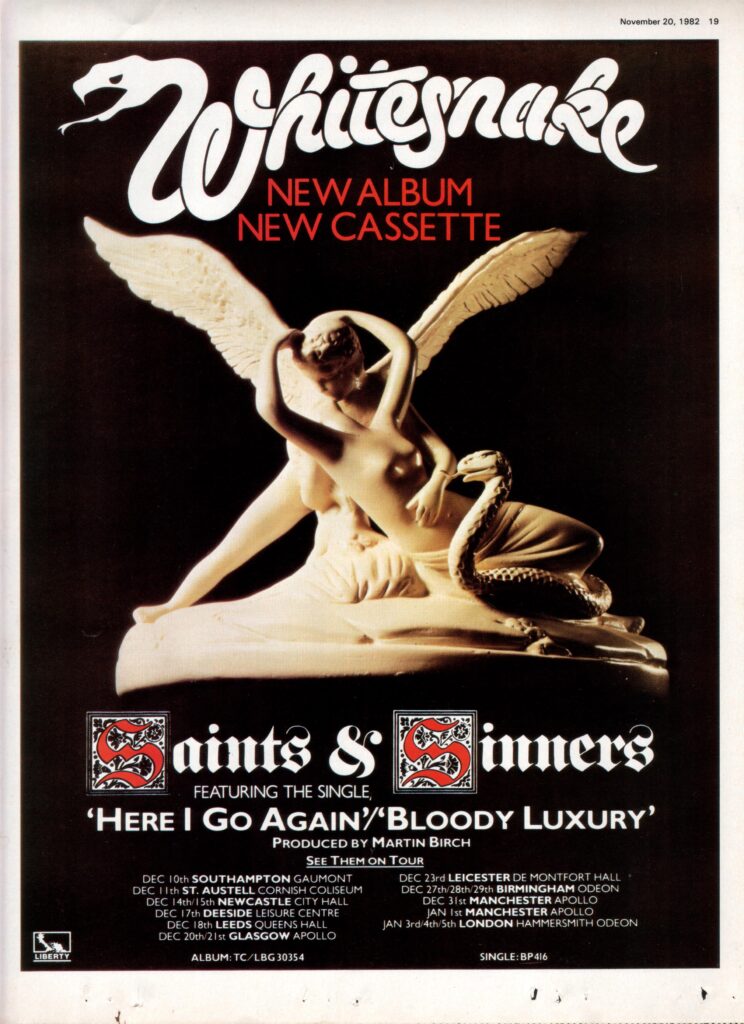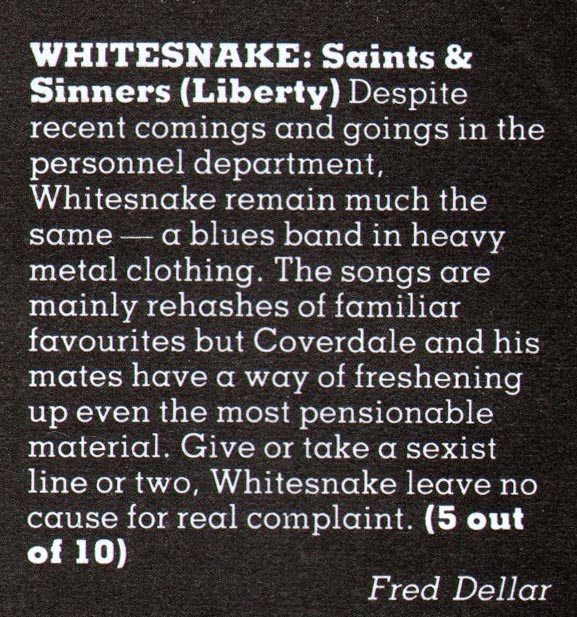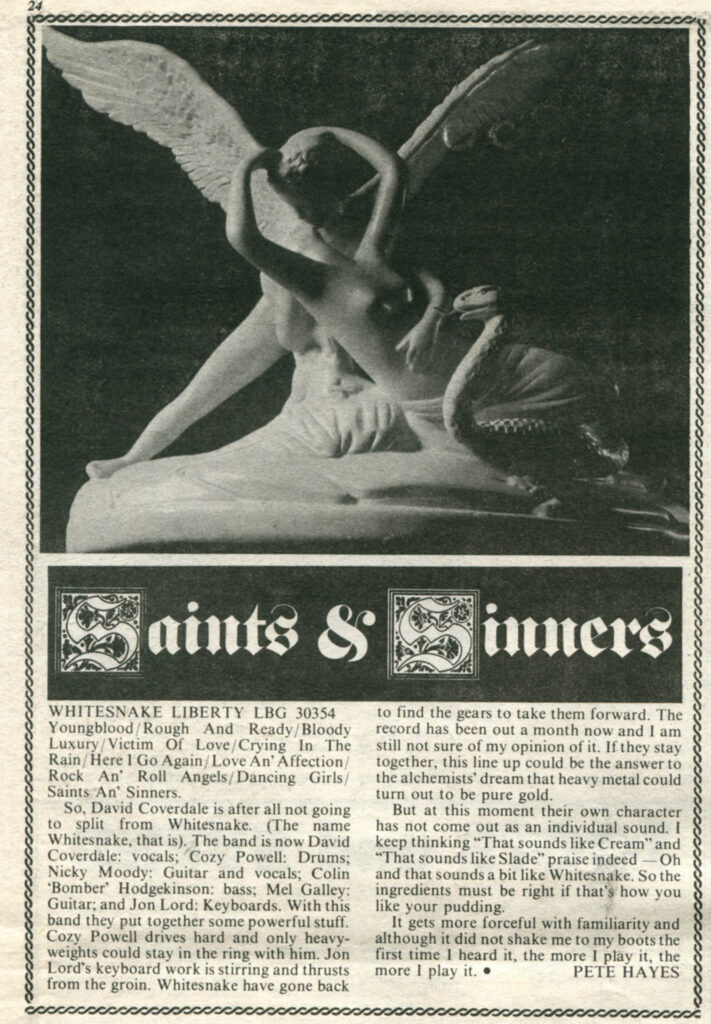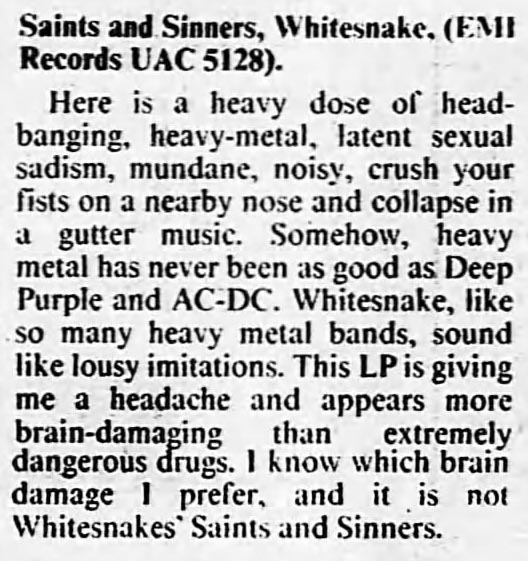 For Further Information:
Help from the archives of Jörg Planer
Help from the archives of Jeff Breis
Listener Mail/Comments

Comments about the show? Things you'd like us to cover? We'd love to hear from you. Send us an email at info@deeppurplepodcast.com or @ us on Twitter, Facebook, or Instagram.