Disclaimer: The video used on YouTube is a byproduct of producing our audio podcast. We post it merely as a convenience to those who prefer the YouTube format. Please subscribe using one of the links below if you'd prefer a superior audio experience.

Subscribe at Apple Podcasts, Stitcher, Google Podcasts, Overcast, Pocket Casts, Anchor.fm, Breaker, PodBean, RadioPublic, Amazon Music, or search in your favorite podcatcher!
Thanks to Our Show Supporters – Three Ways To Show Your Support

The $25 "Super Trouper" Tier
The $20 "Shades of Deep Pockets" Tier
The $15 "Highball Shooter" Tier
The Turn it up to $11 Tier

Frank Theilgaard-Mortensen

$10 "No One Came" Tier
$6.66 Tier
$5 "Money Lender" Tier

Clay Wombacher
Greg Sealby
Mike Knowles
John Convery
Arthur Smith
German Heindl
Adrian Hernandez – Paypal
Fielding Fowler
Kenny Wymore

$3 "Nobody's Perfect" Tier

Peter Gardow
Ian Desrosiers
Mark Roback
Anton Glaving
Will Porter

$1 Made Up Name Tier

Ells Murders
Spacey Noodles
The "Uncanny" Leaky Mausoleum
Michael Vader
Thanks to our Brothers at the Deep Dive Podcast Network:
Thanks to the Patron Saint and Archivist of The Deep Purple Podcast:
Show Updates:

Comments from social media.
Problems with Part 1 being banned from YouTube due to Sgt. Pepper's Lonely Hearts Club Band. We played a 20 second clip from an album that is 53 years old.
Part 2 also banned from YouTube for "I'm Gonna Make You Love Me" by Madeleine Belle.
Technical difficulties update.
The Jesus Christ Superstar DNA Playlist – Over 600 songs by the singers and musicians who contributed to Jesus Christ Superstar.
Lead up to the Album:

The story for Jesus Christ Superstar is based on The Synoptic Gospels (The Gospels of Matthew, Mark, and Luke) and "The Life of Christ" by Fulton J. Sheen.  The idea was to calibrate the gospels but to put more of a focus on the interpersonal relationships between Jesus, Judas, and Mary.
Tim Rice also said that the song "With God On Our Side" by Bob Dylan was an inspiration.

The line: "Did Judas Iscariot have God on his side?
This was a fascinating subject for Rice to consider.
The premise of the musical is "Was Judas the rational disciple trying to preven tthe popular reaction to Jesus's teaching from getting so out of hadn that the Romans would crush it?
Was Jesus beginning to believe what the people were saying, that he truly was the Messiah?

What if we dramatized the last days of Jesus's life from Judas's perspective?
By early 1969 there was an official 30 minute recording of the Joseph show giving them a sample of their work to try to get potential backers for their idea to turn JCSS into a broadway show.
Andrew had written to Sefton Myers with an idea of creating a museum of rock and roll memorabilia and slipped a copy of the Joseph 30 minute album.
Sefton got back to them and arranged a meeting where they presented a deal to Webber and Rice.  Webber was eager to jump at it but Rice was more hesitant as he wasn't sure if it was safe to leave his job.  This lead to management being more aggressive and generous with their offers.
By summer of 1969 they were able to write and create and focus on their new project.
Their first attempt to create something was a musical based on King Richard the Lionheart.  It only had one performance.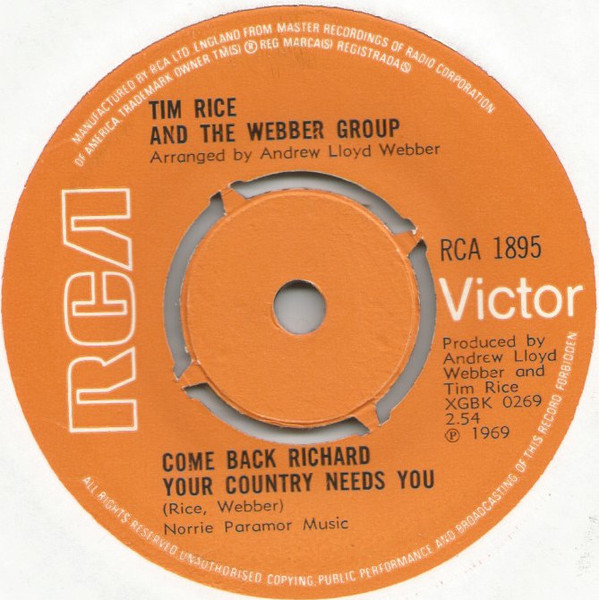 One release "Come Back Richard, Your Country Needs You" by Tim Rice and The Webber Group.
They decided to try something "heavier, more serious."
Tim went to visit Mike Leander who was head of A&R at MCA records. Leander was the person who had arranged the song "She's Leaving Home" for The Beatles.  Mike asked Tim what became of his idea of making a musical about Jesus and Judas Iscariot.  This is something Tim had been thinking about for a while but had never mentioned to Webber.
The idea was to put themselves into the minds of Judas and Pilate and how they would have acted under the circumstances, not knowing what would become of Jesus.
Rice went back and told Webber and told him it would be the store of Christ's last week on Earth from the perspective of Judas.
The idea was that they could put a lot of words into Judas's mouth without betraying what was in the Gospels.
This was shortly after the backlash about John Lennon's comments about The Beatles being bigger than Jesus.  So their backers were a little hesitant.
They wanted to write a stage production and thought that any recording would be a spinoff of that production.  It ended up being the opposite.
Production:

Additional Info:

This is The 1st UK release of Jesus Christ Superstar Recorded At Olympic Sound Studios, Barnes, Advision Studios, Island Studios And Spot Productions Studios On 16-Track Tape.
This is the rare, earliest first pressing, of which only a few hundred copies were made. It has the unique fold-out star cover and the late-sixties style MCA labels with the orange/yellow swirl design.
The album's official release date was 16th October 1970 by which time MCA had introduced the new 'bow-tie' label design.
Later pressings followed with different label.
The booklet is slightly different from later copies – it is printed on shiny paper and has rounded corners.
Sleeve printed and made in England by E. J. Day.
Inner sleeve: Blue Decca poly-lined inners. The date codes on these sleeves are 6/70 and 7/70 which precedes the official release date by several months.
Booklet: This is the original first press booklet which has much shinier paper than later issues and rounded corners.
Canada release:

On Front Cover Label:
RECORDED IN ENGLAND
Performing in "SUPERSTAR" are members (past and present) of DEEP PURPLE, JOE COCKER'S GREASE BAND, LORD SUTCH, AYNSLEY DUNBAR RETALIATION, THE BIG THREE, JUICY LUCY, QUATERMASS, MERSEYBEATS, GRACIOUS, PLASTIC PENNY, SPOOKY TOOTH, MANFRED MANN and NUCLEUS.
Also performing is an 85 piece orchestra and the strings of the City of London

Released in a Box Cover including a 28 page Libretto and a 4 page statement in french, by Rèv. Jéan Malo M.A.

Lp's housed in white paper sleeves
Records are set up for record changers

Ian Gillan of Deep Purple appears by courtesy of EMI Records and Warner Bros. Seven Arts Records Inc. (USA)
Victor Brox appears by courtesy of Bam Bam Records (UK) and "with love" from Blue Thumb Records (USA)
John Gustafson appears by courtesy of EMI Records and by permission of "Quatermass" AIR (London) Ltd
Paul Davies appears by kind permission of Philips Records Ltd
Pat Arnold appears by kind permission of Polydor Records Ltd
Tony Ashton appears through the courtesy of Capitol Records Inc
Peter Barnfeather appears by courtesy of Sunny Records Ltd
Madeline Bell appears by courtesy of Philips Records (Holland)
Brian Bennett appears by courtesy of B&C Records Ltd
Lesley Duncan appears by courtesy of CBS Records Ltd
Neil Hubbard and Chris Mercer appear by courtesy of Vertigo Records (UK) and the Atlantic Record Corporation (USA)
Peter Robinson appears by permission of AIR (London) Ltd
Carl Jenkins, John Marshall and Jeff Clyne appear by courtesy of Philips Records Ltd
Chris Spedding appears by courtesy of EMI Records Ltd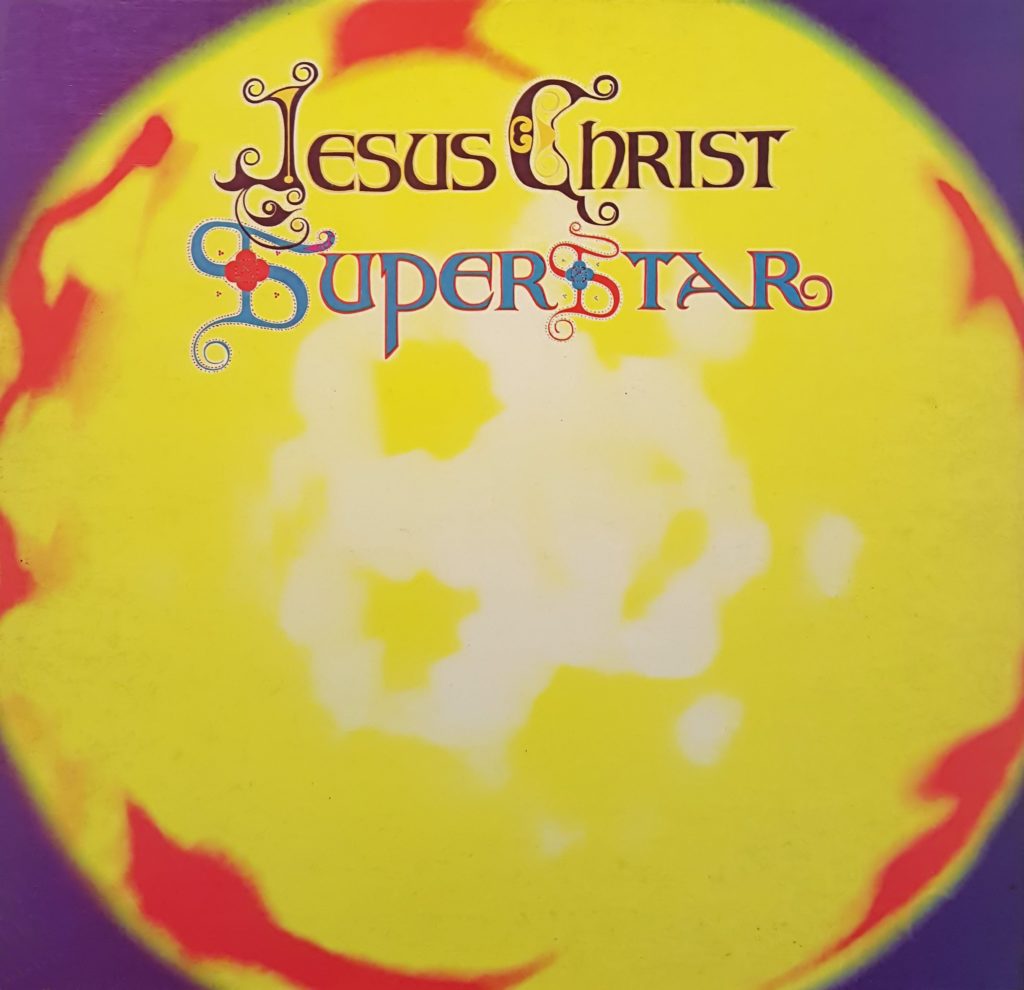 Album Art:

UK Release:

US Release: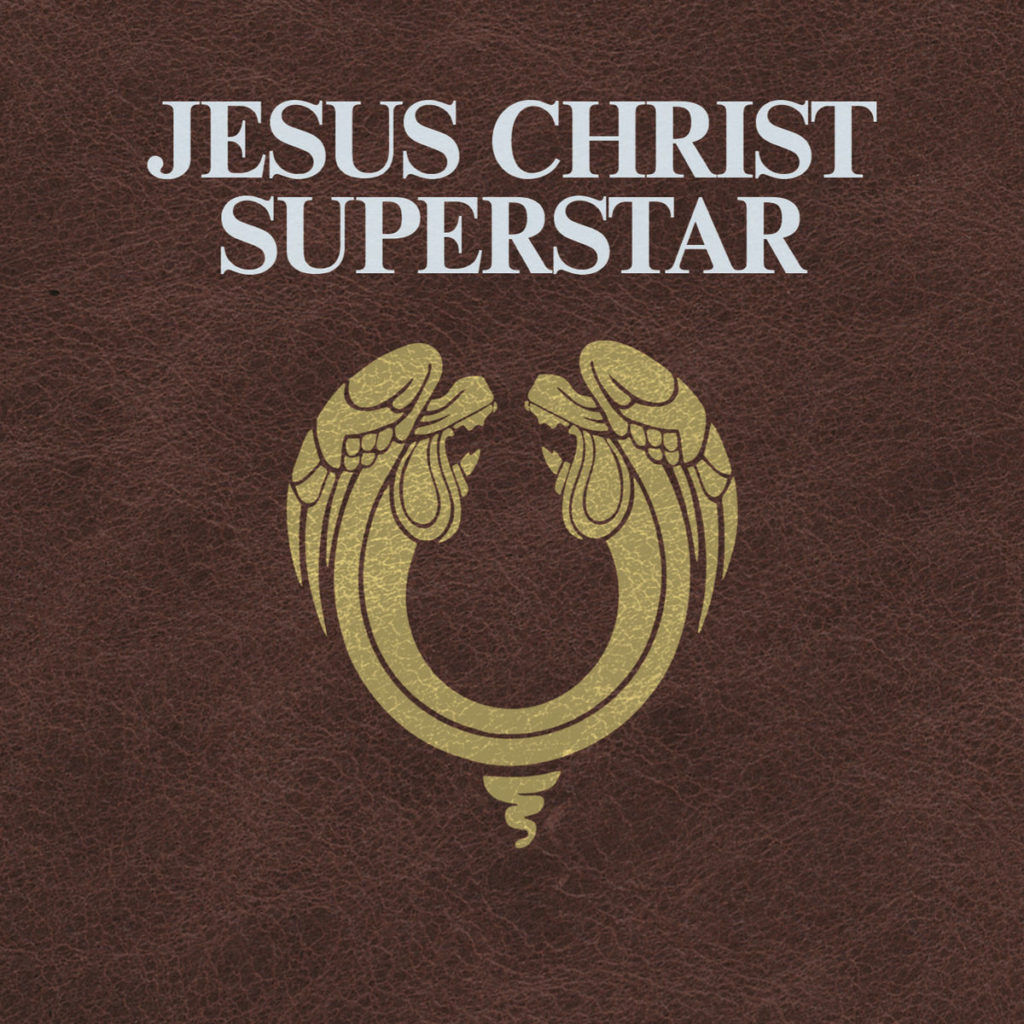 Album Tracks:

LP 1
Side One:

Overture

Leader [Choir] – Alan Doggett
The Theme Lloyd-Webber says he wrote on the back of a napkin at a restaurant called Carlo's Place on Fulham Road

Heaven On Their Minds
What's The Buzz / Strange Thing Mystifying
Everything's Alright
This Jesus Must Die
Side Two:

Hosanna
Simon Zealotes / Poor Jerusalem
Pilate's Dream
The Temple
Everything's Alright
I Don't Know How To Love Him

Webber said he'd seen Judy Garland in a movie called "I Could Go on Singing" which was also the title song. He said there was a line about "When the cows come home." The director was Ronnie Neame, a friend of Webber's Auntie Vi. He decided to play a song to the director that he thought was better. The music ended up becoming "I Don't Know How To Love Him."
This melody had been used before from a 1968 song by Webber/Rice called "Kansas Morning." The song was never recorded.

Damned For All Time / Blood Money
For Further Information:

Listener Mail/Comments

Comments about the show? Things you'd like us to cover? We'd love to hear from you. Send us an email at info@deeppurplepodcast.com or @ us on Twitter, Facebook, or Instagram.