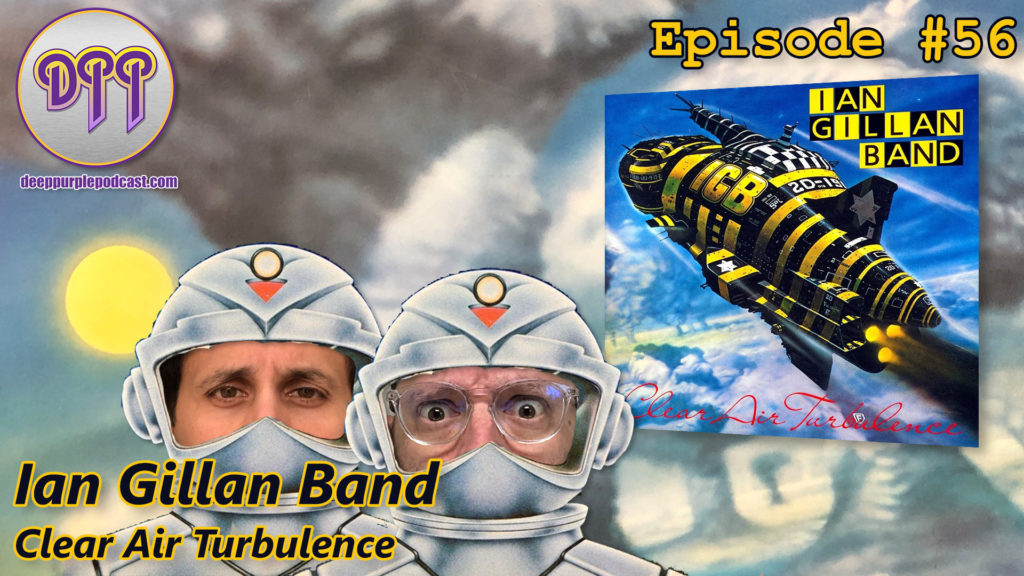 Subscribe at Apple Podcasts, Stitcher, Google Podcasts, Overcast, Pocket Casts, Anchor.fm, Breaker, PodBean, RadioPublic, or search in your favorite podcatcher!

Thanks to Our Patrons:

$10 Super Champion Tier
$5 Tier

Clay Wombacher
Greg Sealby
Frank Theilgaard-Mortensen
Mike Knowles

$3 Tier

Peter Gardow
Ian Desrosiers
Mark Roback
Anton Glaving

$1 Made Up Name Tier

Ells Murders
Spacey Noodles
Leaky Mausoleum
One Time Donations available via PayPal:

Recurring payments are available or . . .
Donate to become an official episode producer and have your name/message read on the episode!
Thanks to our Brothers at the Deep Dive Podcast Network:
Thanks to the Patron Saint and Archivist of The Deep Purple Podcast:
Show Updates:

Comments from social media.
A Word from Our Sponsor:

Lead up to the Album:

When we last left IGB Mike Moran was on keys. He had since left and been replaced by Colin Towns on keys.
Ray Fenwick looks back on IGB in "Smoke on the Water: The Deep Purple Story" by Dave Thompson: "The first album was very, very good, I thought. The thing with it was, Ian suddenly found himself in a band with a bunch of session guys and, of course, session guys like to play as much as they can when they get a chance. In that situation, we were given a bit of room and rope, so we let the rope out a bit."
Dave Thompson also says that the punk scene was huge in the UK at this point. Rainbow took advantage by spending much of their time in the UK and Japan during this time. IGB spent most of their time in the UK and didn't get a lot of traction.
The band was under fire by the music press as well.
Even Deep Purple fans weren't on board with Ian Gillan Band.
Fenwick stated that fans were getting a little unhappy about the funky elements in Ian Gillan Band. ". . . by the time of the second album [Clear Air Turbulence], that terrible word 'jazz' was coming in. But the worst thing we could have done was be another Deep Purple. We started to really experiment and, by the time we got to the third album [Scarabus], although we started doing shorter songs because we were thinking about radio play, we were also getting into some really strange stuff."
The band settled down at Kingsway, owned by Gillan himself, where they would have as much time as they needed to record.
The album was recorded twice. The first attempt was not satisfatory to Gillan so they cancelled their 1976 tour and re-recorded it. Scarabus would be released just six months later.
They toured in 1977 and released "Live at the Budokan" which features mostly Clear Air Turbulence.
Gillan wanted Clear Air Turbulence to set them apart from Deep Purple and even the previous IGB album.
Gillan says in his book, "Child in Time," that he got a new manager named Gerry Black. He admits to signing a contract blindly.
Gillan says that at Island records they had signed people like Steve Winwood. Gillan said at Island he'd spend many mornings playing pool with Bob Marley.
Gillan also said that bands like IGB were considered second division.
Gillan also tells a great story in his book about how he was tired of the band constantly taking taxis to go get cigarettes, strings, etc. He told management to buy a car to save money. He came in and saw the car parked in his spot at the studio. He looked in and there was nothing in it: no seats, no steering wheel, no dashboard, nothing. ". . . not a bloody thing. I was just a shell."
Personnel
Credits
Producer, Written By – I.G.B.*
Engineer [Assistant] – Bob Broghia

Wizards Convention, Colin Towns, Bernie Torme, Gillan,

Engineer [Assistant] – Chas Watkins*
Engineer [Recording] – Brad Davis

Robert Fripp, John Prine, Stan Clarke

Engineer [Remix] – Louie Austin*

Strapps, Michael Shenker Group, Hardin & York, Jerusalem, Earl Jordan, Deep Purple – Fireball,

Mastered By – BilBo (3)

Denis Blackham
Almost 2,000 entires on Discogs

Recorded at Kingsway Recorders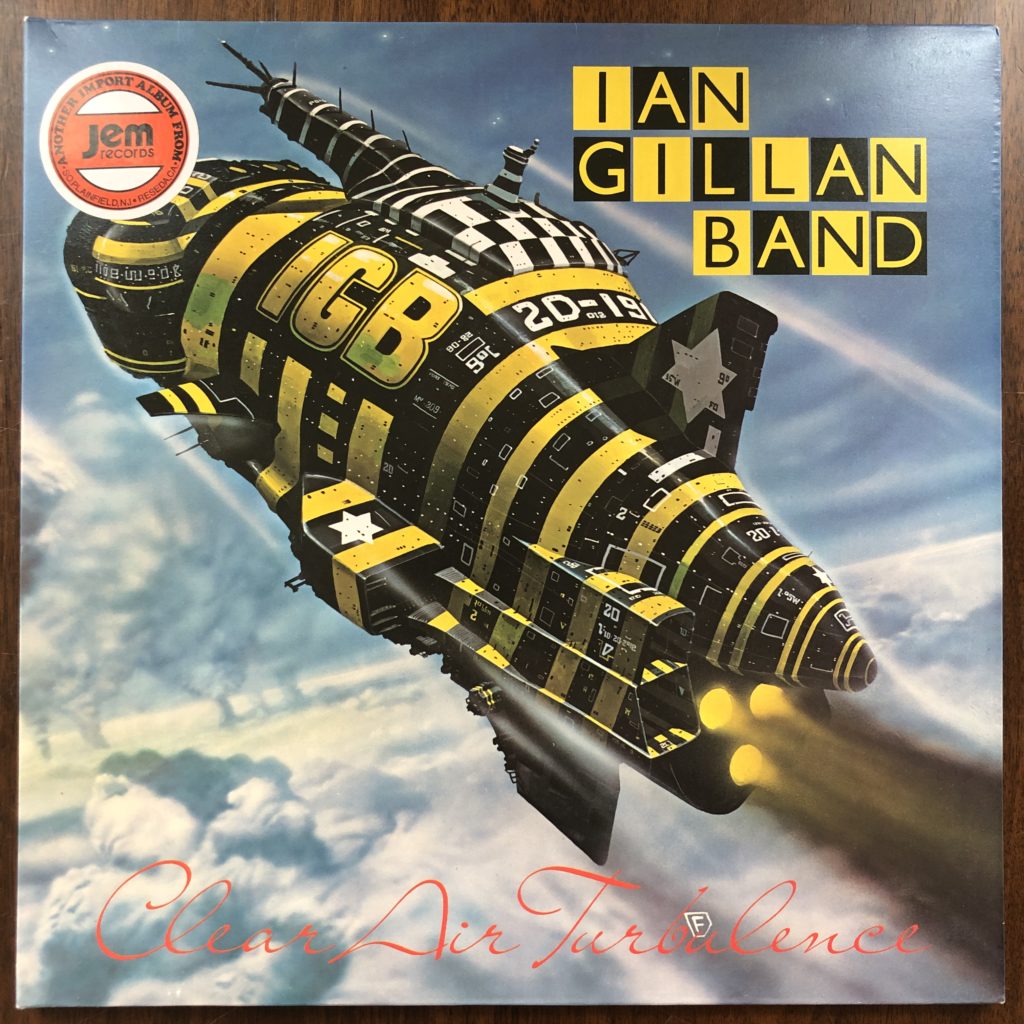 Album Art & Booklet Review
Painting [Sleeve] – Chris Foss (2)

Only 3 other entries on Discogs
Thousands of science fiction books, Asimov, Philip K. Dick, Frank Herbert (Dune), Arthur C. Clarke
Created the original line artwork for "The Joy of Sex"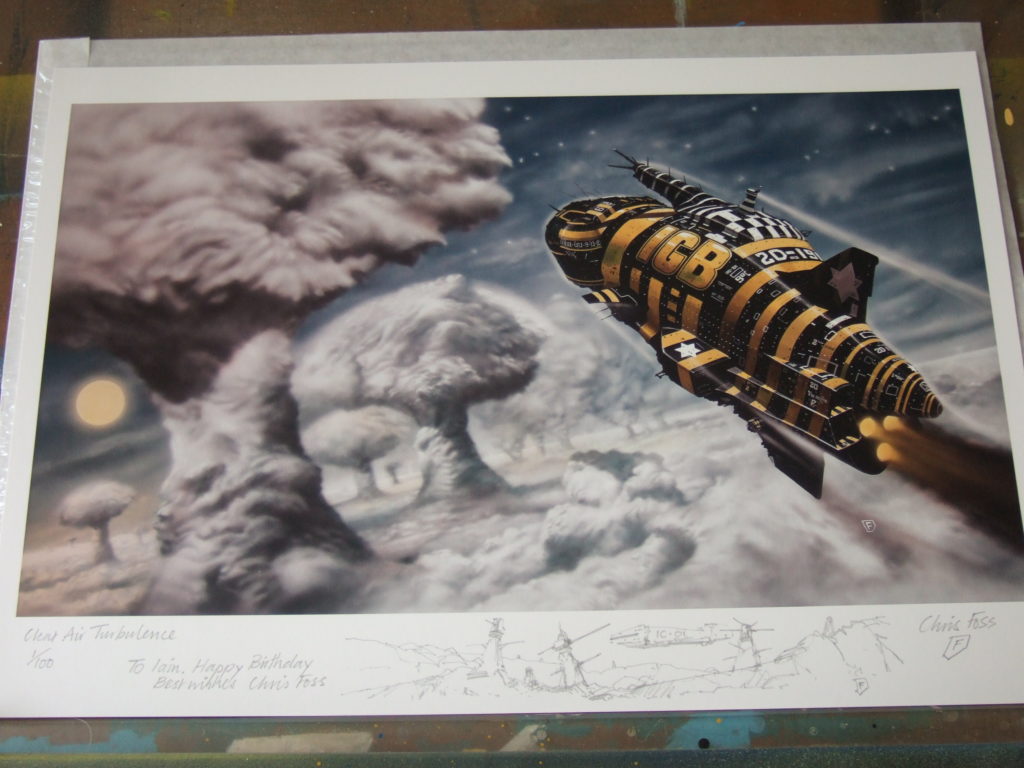 Gillan, discusses working with Chris Foss in his book "Child in Time": and calls it "the bumble-bee spaceship."
Back of the Album:
Many thanks for the enthusiasm, support and professional services
Gerry Black
Gary Lee
Byron Orme
Ezee-Hire
Maurice Plaquet
Percussion Services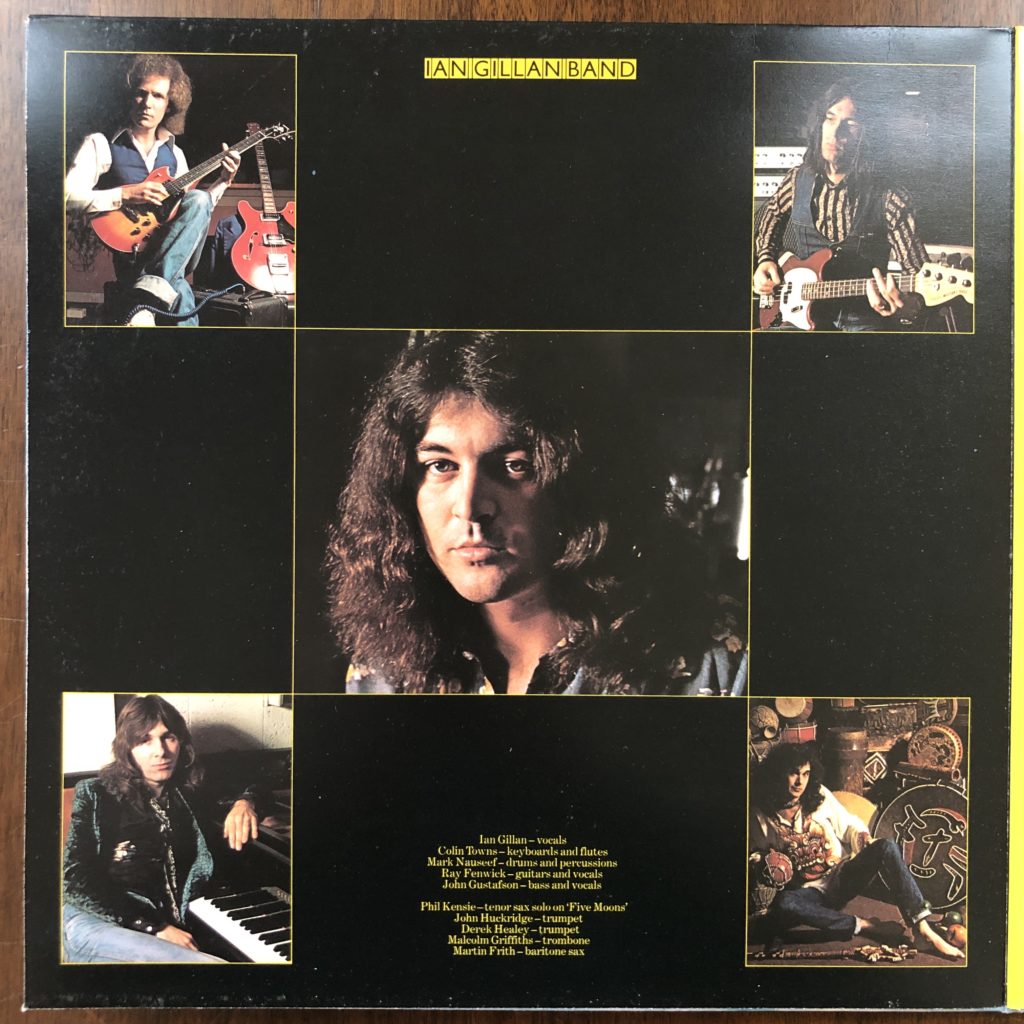 Album Tracks:
Side one:
Clear Air Turbulence
Five Moons
Money Lender

Per "The Complete Deep Purple" by Michael Heatley, Gillan is referencing his former manager, Bill Reid.
Gillan claims to regret this, "In truth, I had not a single reason to think badly of the man." He had just gotten a tax bill for £385,000 and was looking for someone to blame.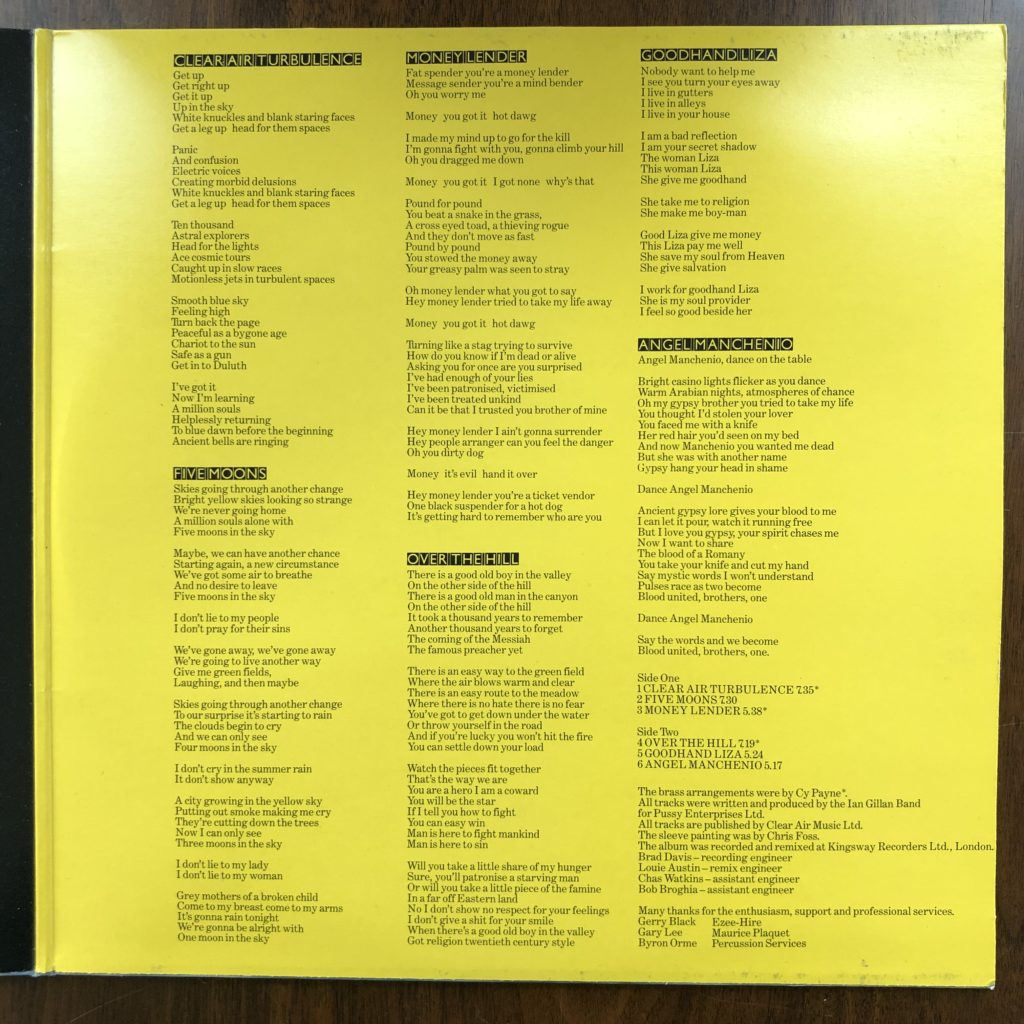 Side two:

Over the Hill
Goodhand Liza
Angel Manchenio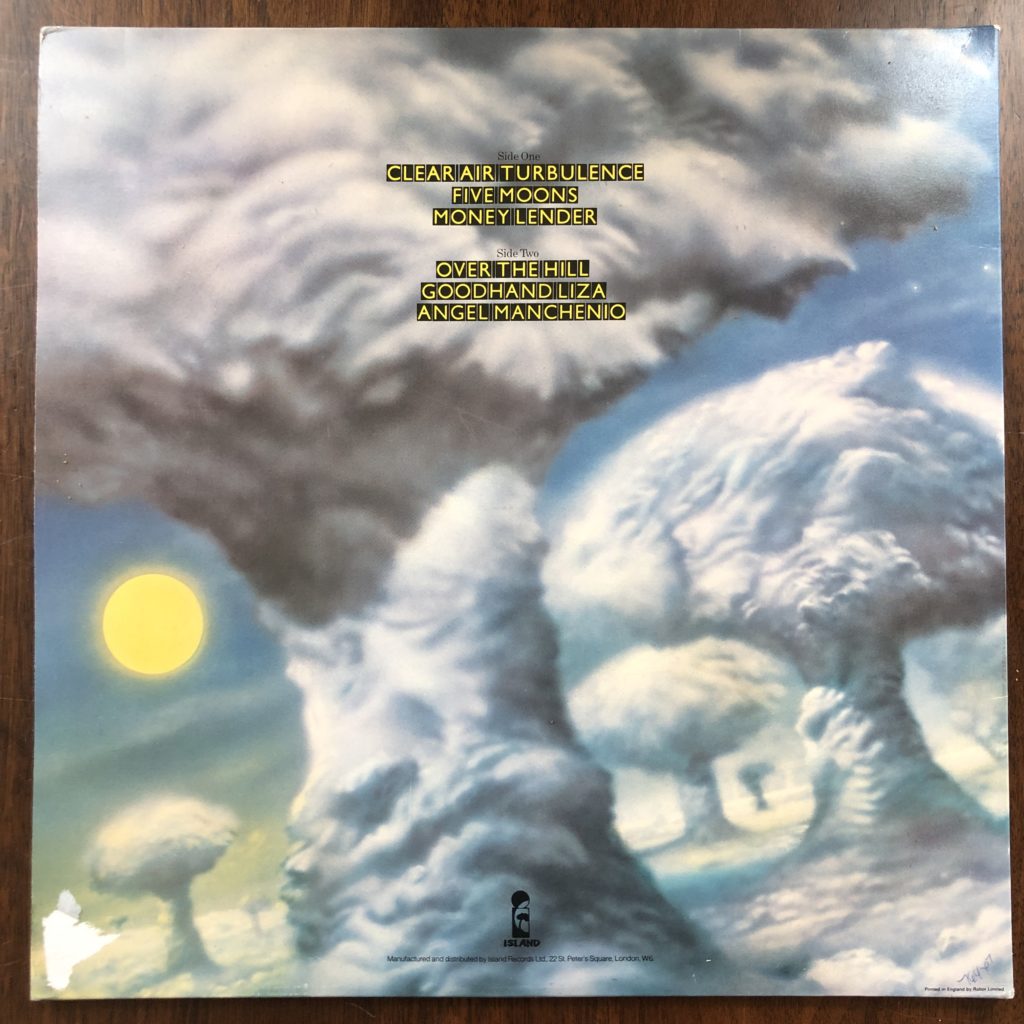 Reception and Review

From Pop: Zweitling vom ex-purple-sanger und seiner band, in der nach wie vor erstklassige typen mittun ( ). musikalisch ist die truppe. bei alter harte bleibt der sound uberall transparten und grazil. trotz-dem fehlt etwas: gute songs, melodien, knuller. das lobenswerte teamwork (all songs enstanden in gemeinsamer arbeit) erbringt nur heisse luft.
Second of the ex-purple-singer and his band, in which still first-class types now (Ray Fenwick, John Gustafson). the group is musical. with old hard the sound remains transparent and delicate everywhere. Nevertheless, something is missing: good songs, melodies, pacifiers. The commendable teamwork (all songs were created in collaboration) only provides hot air.
New Musical Express references the canceled tour and refers to the band as "Clean Air Turbulence."
Re-mixes available:

The Rockfield Mixes
The Rockfield Mixes Plus
For Further Information:

Album Liner Notes
CD/LP Liner Notes
Help from the archives of Jörg Planer
Listener Mail/Comments

Comments about the show? Things you'd like us to cover? We'd love to hear from you. Send us an email at info@deeppurplepodcast.com or @ us on Twitter, Facebook, or Instagram.